Have you witnessed your customers waiting in lines to be seated and made orders by servers?
If this happens so frequently, it's a bad sign to show that you aren't running your restaurant effectively, which may harm your visitor experience and make your staff burnt out and overloaded.
Of course, restricting dinner visits at peak periods is an unexpected thing as fast-service restaurants often strive to accommodate as many customers as possible.
Many restaurants turn to employ plenty of staff as a solution. But the problem here is that managing & training staff is not an easy task. Servers are people who set the tone for the restaurant, interact with customers the most, and even influence how customers feel. If they aren't well trained, there's a high risk of discrediting the restaurant in front of guests. Additionally, the business situation is not always stable and personnel costs sometimes become a financial burden to some restaurants.
Therefore, there is no better way for restaurants to cut waiting times and serve more customers by optimizing their operational workflow.
QR Code menu with contactless table ordering is an innovative & permanent solution widely used in forward-thinking restaurants to optimize their ordering and payment process, improve their operational efficiency, increase table turnover ratio and reduce the need for order staff and save on labor costs.
So what are QR Code menus? How do they impact restaurants in terms of business management?
Let's dive into this blog to find out the answer!
Definition of QR Code menus
QR Code menus are two-dimensional barcodes that people scan with their smartphone cameras or any QR Code reader apps to access the restaurant menu. They display HD photography, slideshow, or video of items in a vivid and intuitive way, and allow diners to order and pay for the order directly there without support from order staff. QR Code menu is one form of digital menus, which have been so well-known before and we have seen them so much under the form of digital menu boards or self-order kiosks.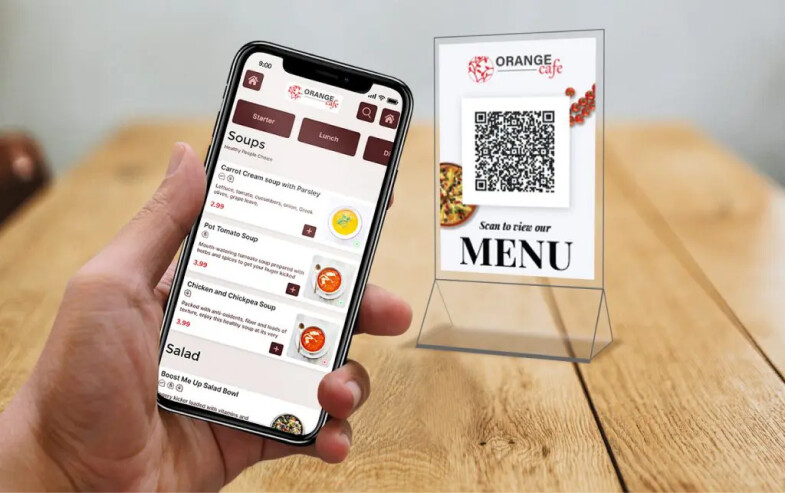 QR Code menus - smart table ordering solution helps you manage restaurants effectively
Streamline the restaurant's workflow
Traditionally, a server is an indispensable part of any restaurant. They are responsible for welcoming guests, taking orders, transferring order information to kitchen areas, taking care of guests during their meals, checking guests' payments, and cleaning the table after they finish their meals. It's so clear that servers get their impression at any stage in their customers' journey. Therefore, If restaurants don't have enough front-of-house staff, they can't serve their customers perfectly. And what's worse is that in case your staff makes some order mistakes, it will not only cause a loss of resources for your restaurant but also negatively affect the customer's dining experience.
QR Code menus have changed the way restaurants do their business and changed the table serving for good as well. Smart table ordering encourages diners to become their own servers, get all their ordering control and decide their experience in the way they expect.
Customers do:
Scan the responsive QR Code on the table to view menus, make their orders on their own, send any specific requirements, and pay their orders.
QR Code ordering system technology does:
Show menus, receive and transfer order information and customers' requirement to relevant departments
Kitchen & bar areas:
The chef prepares the orders
Servers do:
Greet guests, bring out the food to the table, and provide assistance if necessary
Now QR Code ordering has been taking care of all of the transactional and front-of-house tasks, therefore servers can serve food more quickly and have more time to enhance customer service in other aspects.
To sum up, automated ordering and payment systems with QR Code menus do help restaurants run more efficiently by streamlining workflow, reducing the need for order staff, eliminating staff workload, reducing human error, and ensuring order accuracy. These systems also help restaurants improve customer satisfaction by providing self-serve and contactless dining experiences as well as faster food service.
Increase staff productivity
How long does it take your staff to serve a table in the traditional way?
The use of paper menus and manual ordering methods often take servers a long time to complete an order for a table. They have to hear, note down, and confirm so carefully all order information and specific requirements of their customers to avoid any mistakes. What's worse, this can lead to overcrowding and long wait times for customers during peak hours. For large-scale restaurants and cafes which have many floors and areas, it even costs them more time to move from the service area to the kitchen/bar area just to transfer the order info and customer's requirement. It can be seen that human resources are not optimized.
That's not to mention, order accuracy is likely to be affected by mistakes in ordering or miscommunication between the order and kitchen/ bar staff.
QR Code menu with automated ordering systems appears to make the entire ordering & payment process in your restaurants or cafes more optimized. All order info and customer data are automatically synchronized with other devices in the sales management system. As a result, staff can save their ordering time, moving time to pass info across departments, minimize errors and mistaken dishes, and serve food more quickly. Without a doubt, QR Code menus improve staff productivity, help restaurants increase their table turnover rate, and seat more customers with less staff. Consequently, they are no longer concerned with personnel costs and management.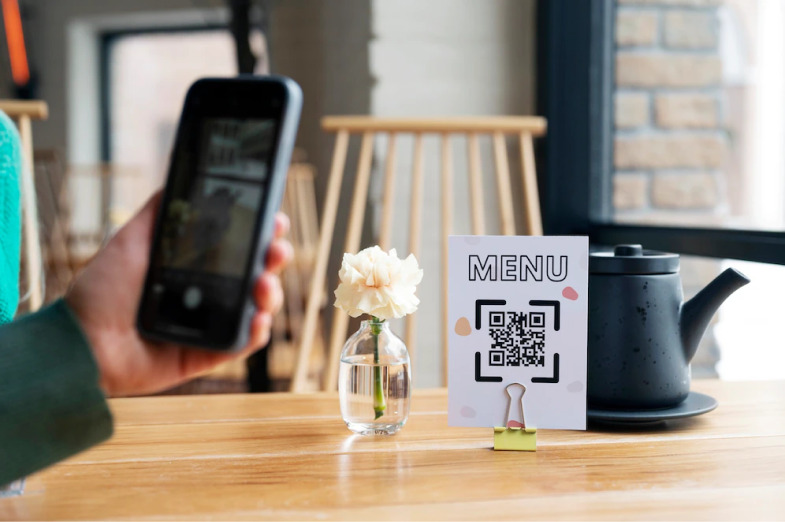 Create a seamless management system
Digital menu with QR Code is well integrated with the POS management system at restaurants, making it simple for them to handle their orders both online and offline across many locations.
Order information and customer data are auto-transferred among departments, which enhances better communication between managers, servers, and kitchen staff. These valuable data are also passed on to the marketing & sales department to use for effective remarketing. It facilitates restaurants to create exclusive offers and discounts for each customer persona, build a good relationship with customers and prompt them to visit again.
How Digital Menus with QR Code boost your revenue?
What to do next?
Not to say, the QR Code menu is a must-have for any restaurant to optimize their operational efficiency, stay competitive and keep pace with customer demand.
If you are so new to QR Code menus and how to establish them, get started with DingDoong now.
It's easy to set up, at no cost, in no time. Contact us for any questions you have. Our docs and video here may help you as well.
Other restaurants are at their digital race with QR Code menu technology, would you?