"I want to restrict the possible delivery date and time to specific zip codes. For example, zip code 10001 would only have the option for Monday and Thursday deliveries from 7 am to 8 am, while zip code 90000 would have the option for Tuesday and Friday deliveries during the same time slot."
This situation is quite common among merchants running their businesses in various locations or delivery zones. Due to different geographical delivery areas and customers' unique shipping needs, optimizing the delivery process and meeting customer expectations in each specific zone requires setting separate delivery dates and time slots.
Merchants may need to deliver to different areas on different days of the week, or focus deliveries on specific areas during specific time slots. This blog post is exactly what you need. We will guide you through the process, step by step, to customize different delivery dates for the various areas you deliver to. Additionally, we will show you some practical examples of how this customization will be displayed on your storefront. By doing so, you can optimize your delivery process and effectively manage customer expectations.
Why is it necessary to customize delivery date picker for different zip codes?
Customizing delivery date picker for different zip codes is essential for several reasons:
Localize the customer experience: Different regions have diverse preferences and needs. By customizing delivery dates, merchants can cater to specific demands and offer a more personalized experience to customers in each zip code. This level of personalization enhances customer satisfaction and builds stronger relationships.
Minimize delivery delays: Certain areas may experience logistical challenges or longer shipping times due to distance or accessibility. By setting appropriate delivery dates for different zip codes, merchants can manage customer expectations and reduce the likelihood of delivery delays.
Optimize shipping efficiency: Customized delivery dates allow merchants to optimize their shipping routes and delivery schedules. By grouping orders based on zip codes, they can streamline the fulfillment process and potentially reduce shipping costs and delivery times.
Enhance trust and reliability: Accurate delivery dates instill trust and reliability in customers. When merchants provide realistic and consistent delivery estimates, customers are more likely to make purchases with confidence, leading to increased customer loyalty.
Address local holidays and events: Different regions may have unique holidays or events that impact delivery availability. Customizing delivery dates for specific zip codes allows merchants to plan accordingly and provide appropriate delivery options during local holidays or events.
Reduce customer inquiries: Providing clear and accurate delivery dates based on zip codes can significantly reduce customer inquiries regarding shipping times and tracking information. This saves time and resources for both merchants and customers.
In summary, customizing delivery dates for different zip codes is essential for delivering a seamless and delightful shopping experience to customers. It not only helps manage logistics and operational efficiency but also contributes to building trust, loyalty, and a positive brand reputation. By prioritizing personalized delivery options, merchants can enhance customer satisfaction and grow their e-commerce business successfully.
How to set delivery date picker for different zip codes on your Shopify store
Introducing DingDoong: The Delivery + Pickup app, now available on the Shopify app store, designed to provide merchants with enhanced control over delivery dates for various zip codes and locations.
With DingDoong, effortlessly set up and manage multiple locations, allowing you to tailor delivery options (delivery method, delivery date) to specific areas. Each location can have its own unique set of zip codes, ensuring a more convenient and streamlined delivery process for both you and your customers.
Check it out on the Shopify app store today!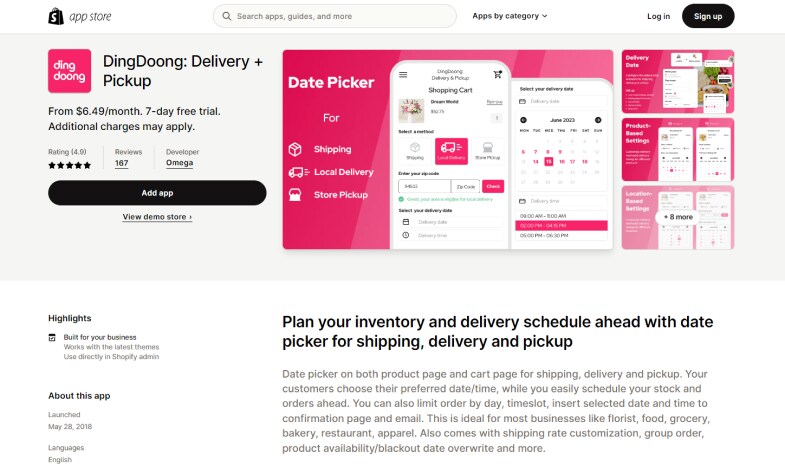 To set up delivery date picker for different zip codes, please follow three important steps below:
Step 1: Set up locations
Locations should be your stocking inventory, fulfilling orders, or selling products. The number of locations you can customize based on your DingDoong subscription plan.
For each location, you can decide the delivery zone, which is the group of eligible zip codes that share the same delivery schedules. Remember, the zip codes of the second location must not overlap with the ones in the first location.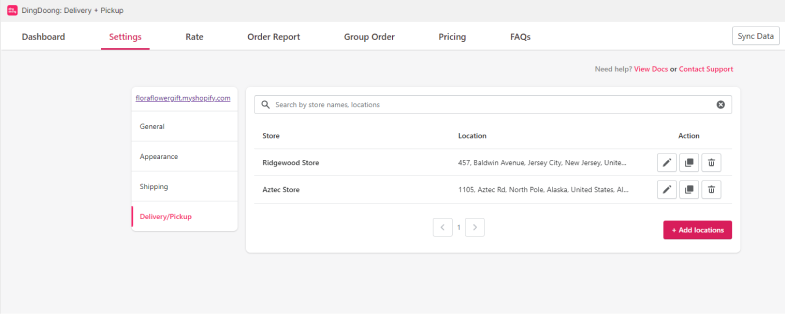 For more detail, check the document 👉 here
Step 2: Configure delivery zones
Determine the delivery zones based on zip codes. Divide regions into specific zones that share similar delivery time frames.
Input the relevant zip codes into the app and associate them with their respective delivery zones.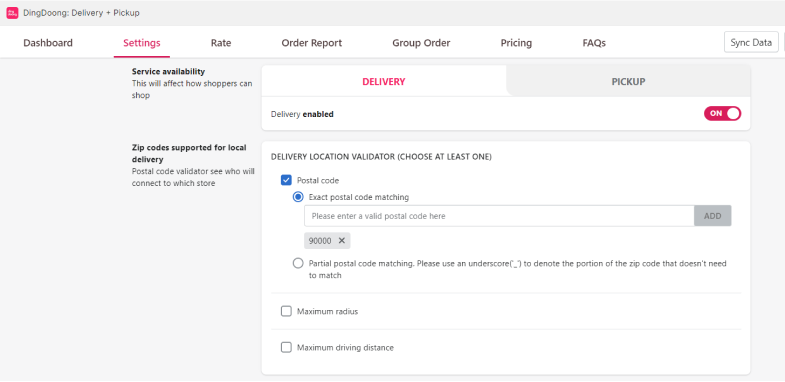 For more detail, check the document 👉 here
Step 3: Set delivery time frames
Consider the distance and logistical constraints for each delivery zone.
Configure appropriate delivery time frames for each zone to manage customer expectations.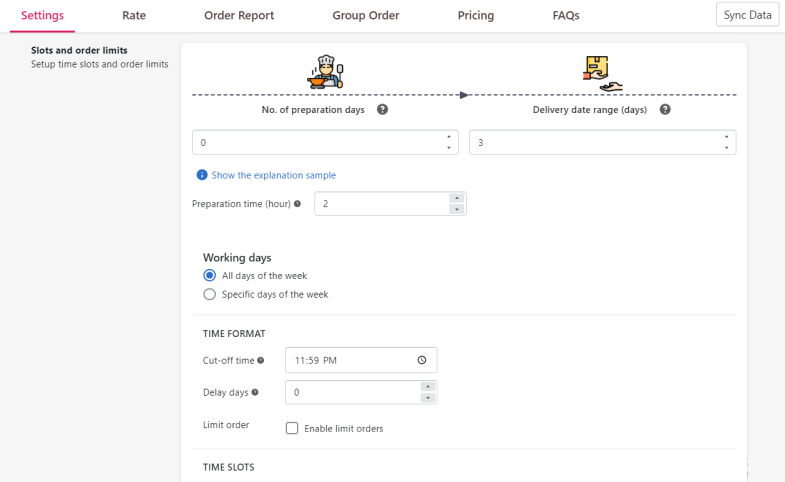 For more detail, check the document 👉 here
Read more: Making the Holidays Hassle-Free: The Importance of Delivery Date
Example result
Check the example below to see how zip code-based delivery date pickers are shown in action!
Customers who enter zip code 10001 during checkout can select delivery dates from the calendar below: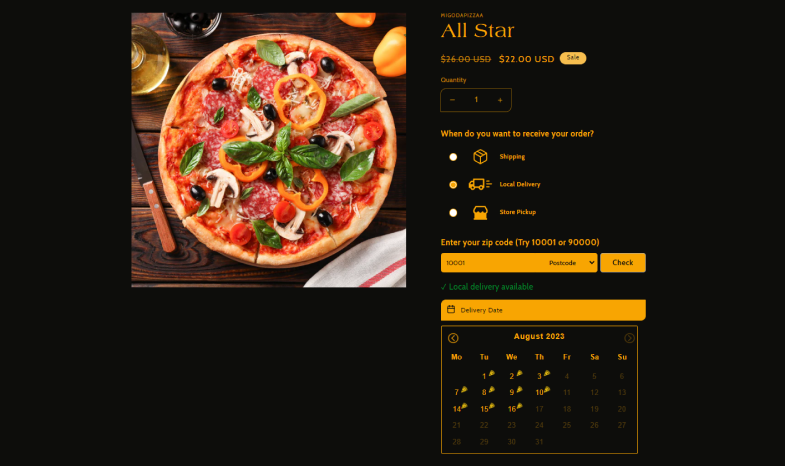 Customers who enter zip code 90000 during checkout can select delivery dates from the calendar below:
Conclusion
In summary, tailoring delivery dates for distinct zip codes on your Shopify store offers remarkable advantages. You'll optimize fulfillment processes, streamline delivery routes, and cut shipping costs and delays. This level of precision showcases your commitment to personalized service, boosting your brand's reputation and fostering unwavering customer loyalty. Embrace this strategic approach to unlock unparalleled efficiency and customer satisfaction. The future of your business awaits - seize it with tailored deliveries!
🛍️ Maximize Delivery Efficiency: Tailor Delivery Dates by Zip Code with DingDoong!
Master shipping with DingDoong! Customize dates for diverse zip codes, conquer the delivery realm effortlessly! 📦🚚
🎁 Exclusive Blog Offer! 🎁 Get DingDoong Now with 20% Off! Code: DINGDOONG1058 🚚 Streamline Your Deliveries Today! 💨 Grab the App via the Blog and Save! 🌐
Contact our Customer Support via email at [email protected] or chat in-app to apply the discount!