Unsuccessful delivery attempts have become a growing problem that hinders the success of e-commerce retailers nowadays. According to a report by Loqate, 24% of retailers admit to having more than one in ten orders not delivered on the first attempt. Failed first-time deliveries cost merchants an average of $17.20 per order or $197,730 per year. It is evident that failed delivery attempts can cost businesses a significant amount in terms of additional staff hours, rerouting, logistics, and fuel consumption. However, the cost of failed delivery attempts is not just financial; it also leads to customer disruptions, and loss of the sale entirely as customers may opt for other brands and never return.
There are many reasons for unsuccessful deliveries, but the top one is that orders arrive at unexpected times, and the recipient is not at home or the designated location to receive the order. According to Consumer Delivery Experience in the Last 3 Months of 2021, that delivery came at an unexpected time is the top reason that hits customers most.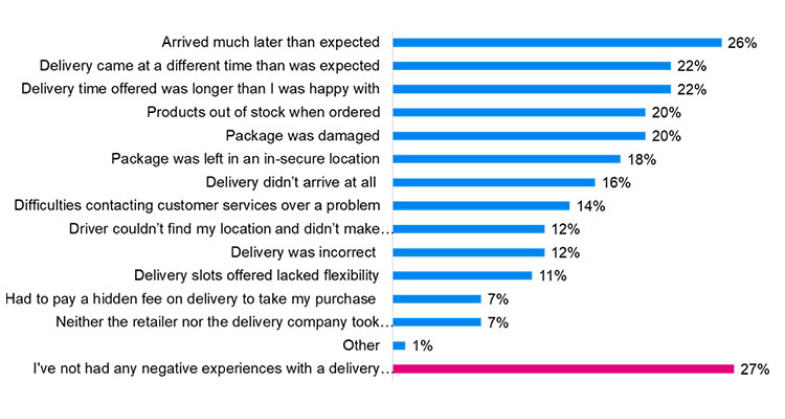 Therefore, in this blog, we will introduce scheduled delivery, which gives customers control over their deliveries by allowing them to choose the date and time when they are available to receive the order. Additionally, we will offer tips for the best practices for successful scheduled delivery and how to use tools like DingDoong to plan out your delivery with ease.
Let's get started.
Delivery Attempt
A delivery attempt is the effort of a delivery driver or courier to deliver an order to the recipient, typically at the requested customer address.
A delivery attempt is successful when the delivery driver successfully completes delivering the order to the recipient at the intended address, at the right time, and with all items inside the order intact.
Conversely, a delivery attempt is considered unsuccessful when the delivery driver fails to deliver the order to the recipient. There are various reasons why this can happen, including incorrect addresses, wrong or damaged items, adverse weather conditions, and recipient refusal.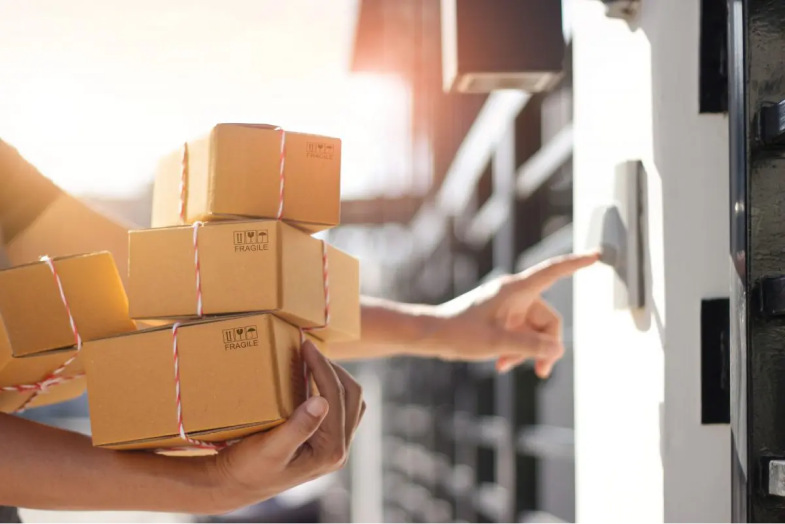 However, the most common reason for failed delivery attempts is the recipient's absence. The order may arrive at an unexpected time, making the recipient unavailable to receive it. However, if the store or delivery courier shares delivery date or time information with customers beforehand, they can plan their day accordingly and be at the intended address to receive the order.
Therefore, the lack of communication about delivery date and time between the sender and receiver is one of the primary reasons for unsuccessful first deliveries and customer disruptions.
When a company or delivery person delivers an order to a doorstep but no one is available to accept it, they may take several actions, depending on their company's policies and the customer's preferences. These actions include:
Inform the customers and try to deliver at a later time, which means multiple delivery attempts. But in some countries such as the United Kingdom, Italy, there is only one attempted delivery per order.
Leave the package at the doorstep. This is a very unsafe option.
Drop the package in the neighborhood.
Take it back to the place of origin and customers come here to collect it.
Regardless of the actions taken by the delivery driver after the initial unsuccessful delivery, the impact of a first failed delivery attempt on your business is significant. Move to the next part to discover how negatively it affects your business.
How Failed Delivery Attempts Can Affect Your Business
The primary and most significant effect of unsuccessful delivery attempts is the cost it incurs. Each new delivery attempt results in additional expenses, including extra staff hours, rerouting, reverse logistics, and increased fuel consumption. According to Andrew Starkey, the head of e-logistics for IMRG, failed deliveries cost around £771 million in 2014. In the United States, delivery vehicles cost businesses $2.84 per mile (or $1.75 per kilometer), as reported by TCI Capital.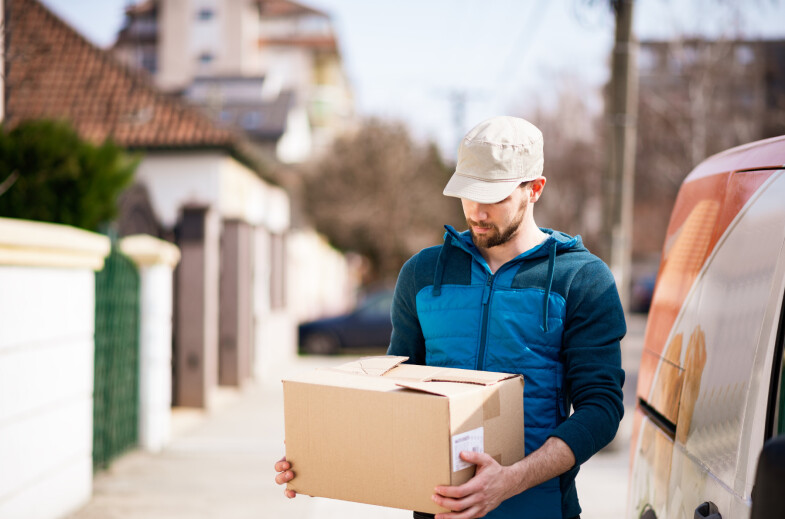 However, the impact goes beyond financial losses. Failed deliveries lead to dissatisfied customers who are unlikely to return. Delivery experience plays a crucial role in shaping customer satisfaction, and a failed delivery can result in a poor experience, damage customer relationships, and create a negative impression. According to Ipsos, 85% of online shoppers say that a poor delivery experience would prevent them from ordering from that online retailer again.
On the other hand, consistently successful first delivery attempts contribute to a positive brand image. It portrays professionalism and reliability, instilling trust in online buyers and increasing the likelihood of repeat purchases. Customers perceive companies that excel in delivery as providers of high-quality products and services, encouraging their loyalty.
Therefore, reducing the number of unsuccessful delivery attempts is crucial not only for cost-saving but also for maintaining customer satisfaction, loyalty, and brand reputation in the competitive e-commerce landscape.
Scheduled Delivery
Scheduled delivery refers to a delivery service that allows customers to choose a specific date and time for their order delivery, aligning with the business's availability. This is particularly useful for customers who may not be available to receive their packages during regular delivery hours or who want to ensure that their orders arrive at a specific time.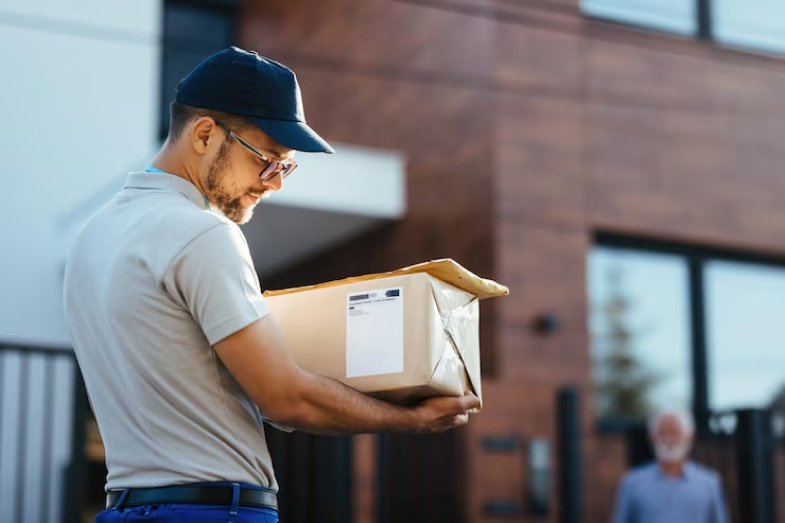 Scheduled Delivery: A Solution To Failed Delivery Attempts
Improve communication and maximize customer availability
Scheduled delivery offers a solution to address failed delivery attempts by improving communication and maximizing customer availability. While businesses may encounter various challenges that contribute to delivery failures, the availability of the recipient remains beyond their control. By implementing scheduled delivery, businesses can establish clear communication channels with their customers, setting expectations for the delivery time, location, and any special instructions. This proactive approach not only increases customer availability but also reduces the occurrence of missed or returned deliveries caused by the recipient's absence.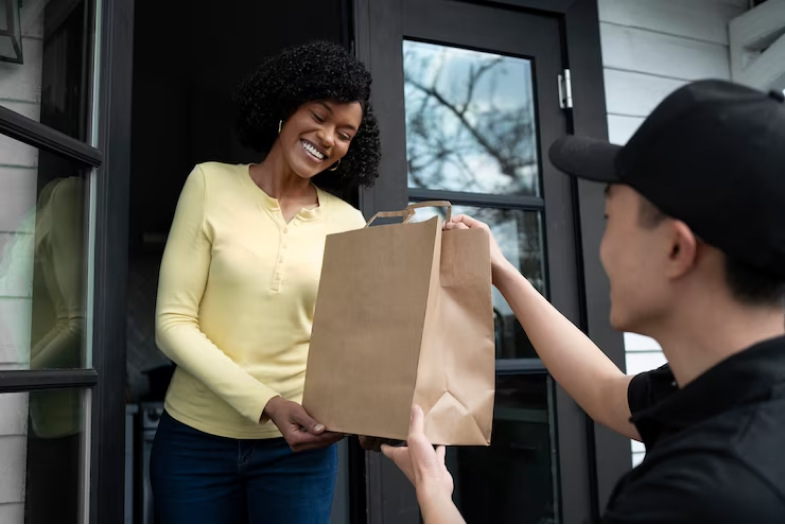 Allocate resources effectively
Insufficient preparation of resources, such as lack of ingredients, staff, or delivery vehicles, can lead to failed deliveries that do not meet customer expectations. Scheduled delivery helps you stay ahead of upcoming order deliveries and effectively allocate your resources. This ensures that you have the necessary capacity and resources available to handle deliveries within the scheduled time slots.
Optimize route planning
With scheduled deliveries, you can optimize your delivery routes based on the predetermined time slots. This allows you to plan the most efficient route, reducing the chances of delays or missed deliveries caused by inefficient routing.
Overall, scheduled delivery revolutionizes order fulfillment by providing a structured and customer-centric approach. With enhanced communication, efficient resource allocation, and optimized route planning, scheduled delivery becomes a powerful tool to significantly reduce the number of unsuccessful delivery attempts. This not only improves customer satisfaction but also streamlines overall delivery operations for a seamless and successful experience.
Maximize customer convenience: Explore different delivery options for local business
Best Practices for Successful Scheduled Delivery
Scheduled delivery is a powerful tool that can significantly reduce the number of failed deliveries, ultimately enhancing the customer experience and optimizing order fulfillment. To make the most out of scheduled delivery and ensure successful outcomes, it is essential to follow some best practices. Here are some tips to help you optimize your scheduled delivery process:
Clear communication
Establishing clear communication channels between your business, delivery personnel, and customers is crucial for successful scheduled deliveries. Provide comprehensive and detailed information about the scheduled delivery options on your website, clearly state the available delivery dates and time slots, and communicate any special instructions or potential delays to ensure customer satisfaction and avoid any misunderstandings.
It's also important to keep your customers informed throughout the entire delivery process by sending order confirmation emails with scheduled delivery details or providing regular updates on the status of the delivery as tracking information.
This is where the DingDoong app can help. With its intuitive date picker at the storefront, you can effortlessly improve communication with your customers by showcasing your available delivery options and their corresponding dates and times. And your customers also can conveniently select their preferred delivery slot from the provided ranges. Setting up the app on Shopify is straightforward and hassle-free. Learn more about it here.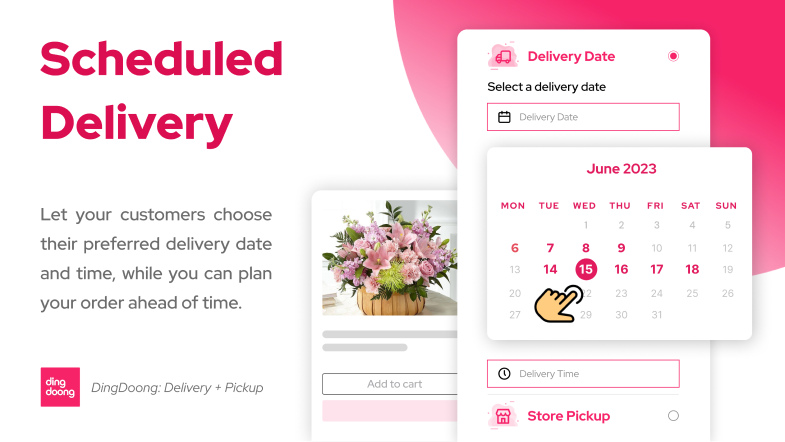 Flexible options
It's highly recommended to offer flexible delivery options to accommodate customers' schedules. Allow customers to choose from different time slots or provide alternative delivery methods like curbside pickup or click-and-collect. This flexibility increases the chances of successful deliveries by aligning with customers' availability.
Efficient route planning
Optimizing your delivery routes is one of the effective ways to ensure timely and efficient deliveries. You can use route planning apps to minimize travel time and distance, reducing the likelihood of delays and missed deliveries.
Implement Scheduled Delivery with DingDoong
Introducing DingDoong, the ultimate delivery scheduling app for Shopify.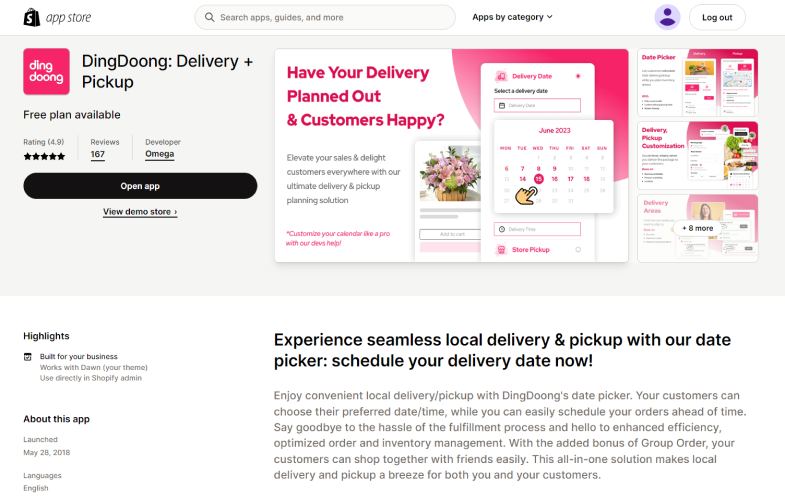 Here are the key features that make it the most convenient solution for your business:
Delivery options: Enhance your customer experience by providing multiple delivery options such as store pickup, local delivery, or standard shipping.
Date picker: Allow your customers to choose the delivery date and time that suits their convenience
Business availability: Take control of your scheduling with DingDoong's robust backend features. Set up your business availability including lead time, delivery window, working days, cut-off time, blackout dates, time slots, and delays day.
Our calendar display ensures that only the dates aligned with your availability are shown, disabling any unavailable options. This guarantees that your customers can only choose from the dates that work for your business, streamlining the scheduling process and preventing any mismatched expectations.
Product-wise and location-wise settings: Tailor your availability according to specific products or locations.
Order limit: Limit the number of deliveries per day or time slot
Delivery validation: Limit the service areas you want to ship your orders to
Shipping rates: Tailor delivery rates, shipping rates by multiple conditions such as order value, order weight, working days,...
Order management: Stay organized and never miss a shipment deadline with our in-app order report. Easily filter orders by date, delivery status, or delivery method to streamline your workflow. You can export orders, add notes, and make modifications as needed. Plus, our integration with Google Calendar allows you to seamlessly track your orders alongside your other appointments, ensuring smooth coordination and timely deliveries.
🛍️ Take your business to the next level with Scheduled Delivery
Empower your customers to choose their preferred date and time for order delivery. Experience better customer satisfaction, reduced costs, & long-term success 📦🚚
Visit our demo store (PW: 123) to see DingDoong in action and witness the difference it can make to your business.
Find us on the Shopify app store to unlock the full potential of DingDoong for your local business.
Check our docs here for more information: https://docs.dingdoong.io/
For an interactive demo within the app, reach out to us via email [email protected]
Final Notes on Scheduled Delivery
Unsuccessful delivery attempts can lead to significant financial losses, increased operational costs, and negative repercussions on customer experience and brand reputation. However, by harnessing the potential of scheduled delivery, you can empower your customers and minimize the occurrence of missed or returned packages. This not only reduces costs but also enhances customer satisfaction and cultivates loyalty, contributing to the long-term success of your e-commerce business.
To effectively implement scheduled delivery, consider utilizing tools like DingDoong. By integrating scheduled delivery into your business processes, you create a customer-centric approach that sets clear expectations, improves communication, and enhances overall delivery performance.
In conclusion, embracing scheduled delivery is not only an effective solution to reduce failed delivery attempts, but also drives operational efficiency, cultivates customer satisfaction, loyalty, and long-term success for your e-commerce business. So, unleash the power of scheduled delivery and take your delivery operations to new heights.