As Valentine's Day approaches, people around the world are searching for the perfect gifts to express their love. This romantic holiday is one of the biggest spending events of the year, with an estimated $23.9 billion spent in the United States alone in 2022. To make the most of this opportunity, savvy e-commerce businesses should take advantage of the proven Valentine's marketing ideas below to drive conversions and generate more sales.
Now is the time to remind your customers of the upcoming holiday and let them know about your offers. Start your Valentine's Day campaign as soon as possible to maximize your sales and make this year's holiday a success!
1. Hone in your e-commerce site
Bring the love to your store
An e-commerce store is the best way to prepare for a seasonal shopping date. It provides a direct connection between you and your customers, allowing them to learn about your offers and make purchases.
The average online shopper only has a brief window of time to make a decision before they move on. Therefore, to make your store appealing for the upcoming Valentine's Day, you should show Valentine's spirit on your online store by adorning it with Valentine's Day-based appearance. This will give people the mood for love and increase your conversion rate.
You can start with a Valentine's Day theme.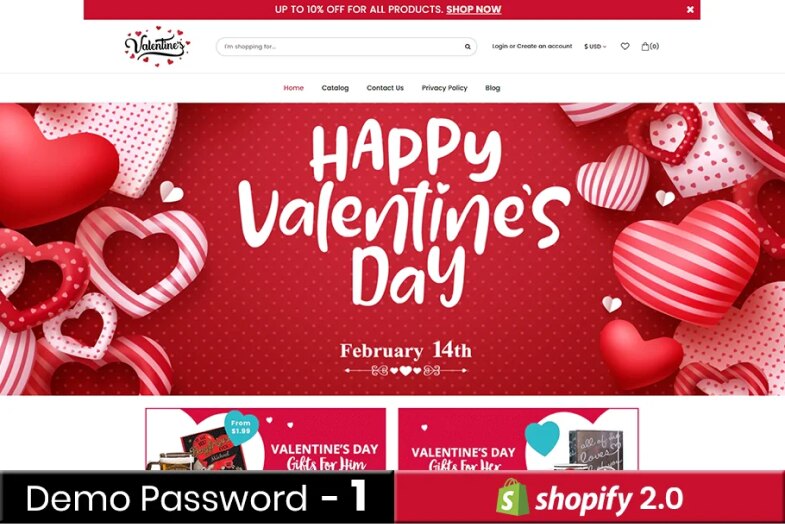 While a Valentine's Day theme like the one suggested may seem appealing, it can come with costs, take up time, and potentially cause issues with your site's backend, especially since it's only needed for a few days. To make the most of the holiday without overexerting your resources, consider the following creative options to add a festive touch to your site:
Using pink and red colors
Utilize the colors red and pink on your e-commerce site to give your store a festive, romantic atmosphere and remind customers of the upcoming Valentine's Day holiday. These colors are synonymous with love and will help create a warm, inviting atmosphere for your customers.
Using Valentine's Day effect
Decorate your store with the app for Valentine's Day effects quickly and easily without the need to hire a coding expert. You can set it up yourself and be amazed by the stunning results!
Using a welcome popup
Appeal to customers upon their first landing on your site with an impressive and festive welcome popup. You can include a captivating Valentine's image, an enchanting message, or a promotion that guides visitors to the products where the sale is taking place. This will create an inviting atmosphere and encourage customers to explore your offerings.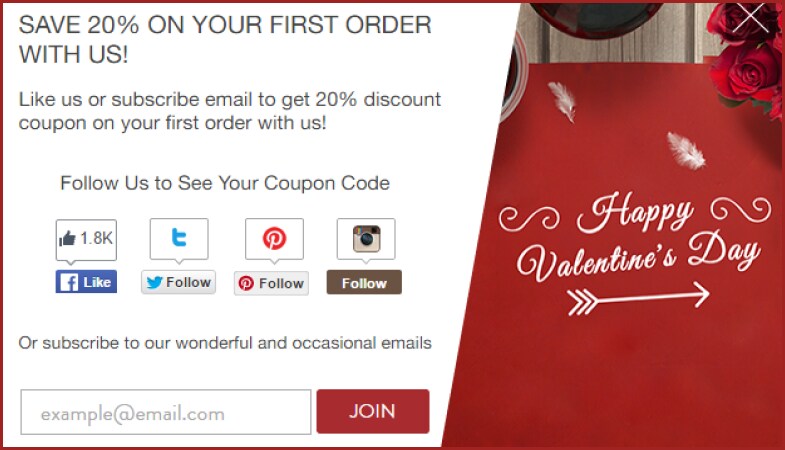 Using a banner on the homepage slide
Add a Valentine-themed banner to your homepage slider to make a lasting impression on your visitors!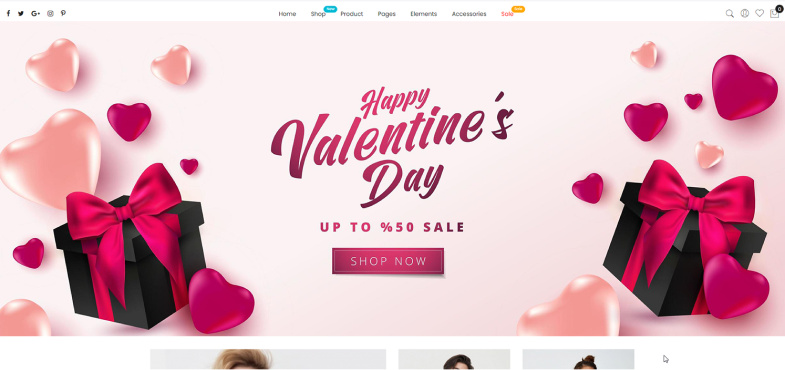 Get more Valentine's Day ideas for your images: here
Try a simple design tool with thousands of free Valentine templates: here
Using a header bar with the killer call to action
If your store doesn't have enough space for a hero banner, you can turn to the header bar instead. This position is also ideal for sending your customers a petite message. Try to include your discount or extra gift, such as free shipping, with a compelling and romantic call to action like "Grab the special 30% Valentine's Day discount", or "Free ultra fast shipping - grab now so your loves can get their gifts on time!", "Take our petite gifts and let us be your Valentine".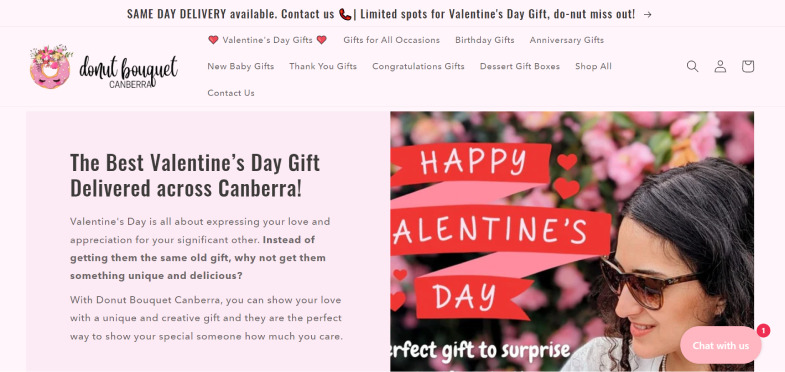 Ensure that your website is mobile-friendly
The majority of online shopping is now done on mobile devices, so it is essential to ensure that your website is mobile-friendly. Optimize your mobile site by making sure it is easy to navigate, loads quickly and is visually appealing on small screens. By taking advantage of mobile, you can ensure that your customers have a positive experience when shopping online.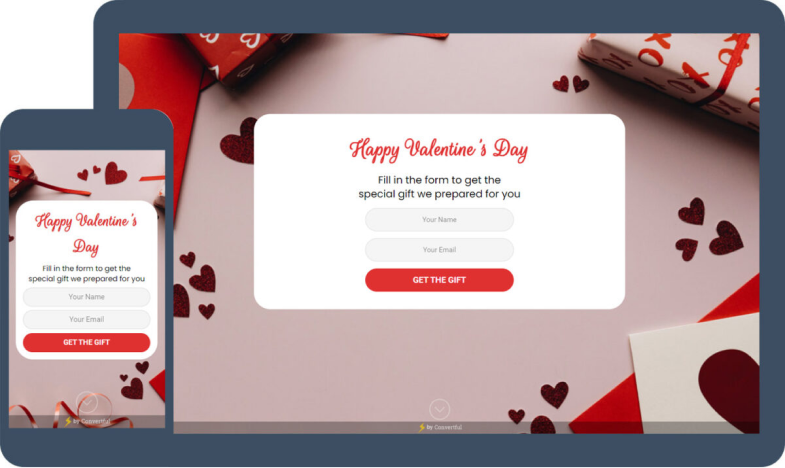 Personalize your offer for valentine's day
On Valentine's day, gift-giving is like a ritual. Therefore, make the most of it by offering products around Valentine's theme and giving them a little touch of love
If you are a seasonal product-selling e-commerce site, consider 7 bestsellers during valentine's day below:
1) Flowers
2) Jewelry
3) Candle
4) Prints and frame
5) Beauty and body lotion
6) Perfume
7) Chocolate
If you have already sold these types of products as online gifts, try to keep them up-to-date with the latest trends and categorize them as Valentine's Day gifts. Make them visible on the navigation tab bar on the homepage so that visitors can easily find them with minimal effort.
In case you're selling a product that may not be directly related to Valentine's Day, there are still ways to take advantage of the holiday to drive more sales for your e-commerce site. Consider giving your product a romantic touch, offering discounts or coupons for couples, or finding other creative ways to link your product to the occasion.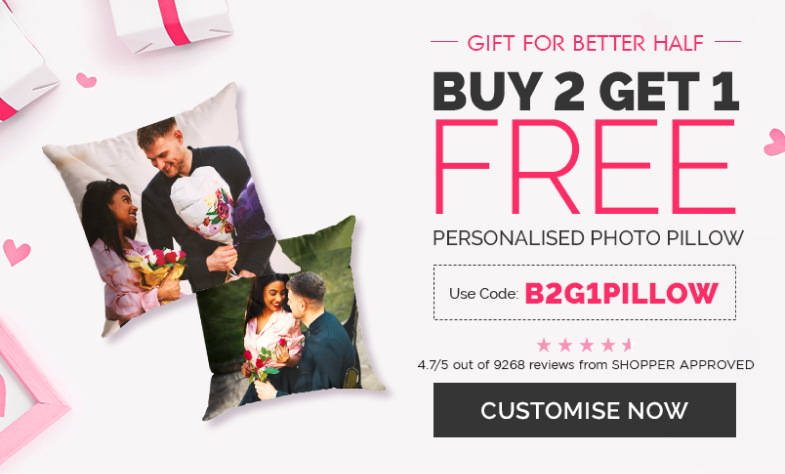 With a bit of ingenuity, you can make Valentine's Day work for your business!
Create Gift guides
It isn't always easy for online shoppers to find the perfect gift for their special someone. To make buying decisions easier for your customers, provide them with a helpful gift guide. Break your product selection for Valentine's Day into smaller categories based on price range, interests, or type of gift. Alternatively, offer combos or bundles of gifts so customers can make their decisions quickly and easily. Finally, one of the most popular methods used by e-commerce stores is to offer additional product recommendations that pair well or are frequently bought together with the product the customer is viewing.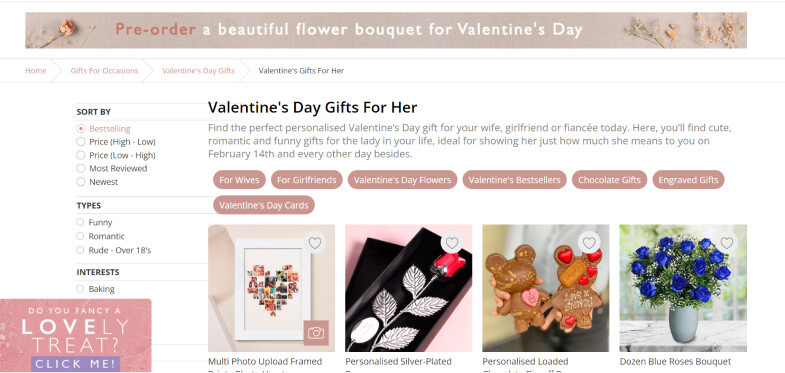 2. Create appealing Valentine's promotions and incentives
Creating appealing Valentine's Day promotions and incentives is the way to encourage people to buy, even if the customer does not have a significant other for Valentine's Day. They will be more likely to purchase something if they can use a coupon or discount.
There are many forms of sale promotions, such as percentage discounts, dollar amount discounts, free shipping, gifts with purchase, and free gift wrapping. However, we believe that the three particular promotions below are especially effective for Valentine's Day:
Coupon (Voucher) Codes
Coupon codes are an excellent way to attract customers from multiple channels, such as email, social media, and referrals from friends to your e-commerce site. You can measure the success of this campaign strategy by tracking how many people have applied the coupon code to make a purchase. Don't forget to set an expiration date for the coupon and add relevant hashtags to maximize its reach.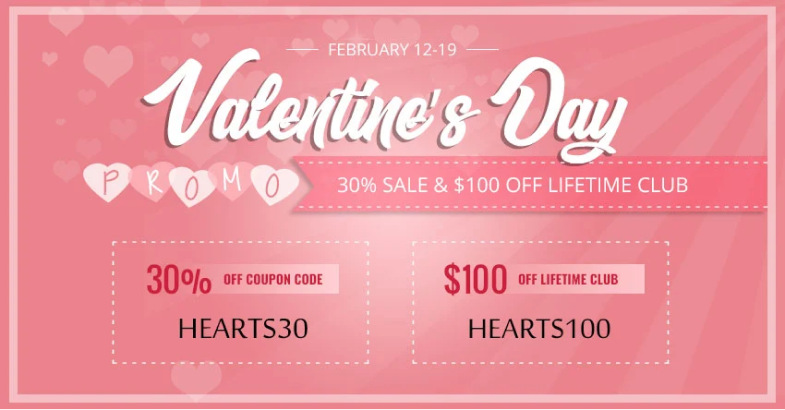 Combos
Creating a combination of relevant products is an excellent recommended strategy. It helps you quickly clear your inventory, increase average order value, and is beneficial for customers as well. Customers can use the combination as a gift guide, making it easier for them to make a decision
Upsell & Cross-Sell
It has been proven that people often spend more money on gifts for others than on products they buy for themselves. Therefore, take advantage of this opportunity to boost sales in your store. Add some enticing content or deals to your customer checkout process to encourage them to add additional items. These products can be related to the main product they are viewing or popular items such as flowers, cards, or chocolates. Make sure to emphasize the value of these items to your customers, and you will be sure to see an increase in sales.
Some notes:
Create urgency
People often hesitate to purchase something online, especially when buying gifts for their special ones, which requires more consideration. You can wait too long for them to make a purchase, and sometimes they leave without responding to a call-to-action. Therefore, creating a sense of urgency (fear of missing out effect) for your promotional offers is highly recommended to prompt them to make a purchase more quickly. It has been proven to enhance site conversion rates by 25%.
You can create a sense of urgency by setting a deadline for the offers, offering time-limited promotions or setting a countdown timer.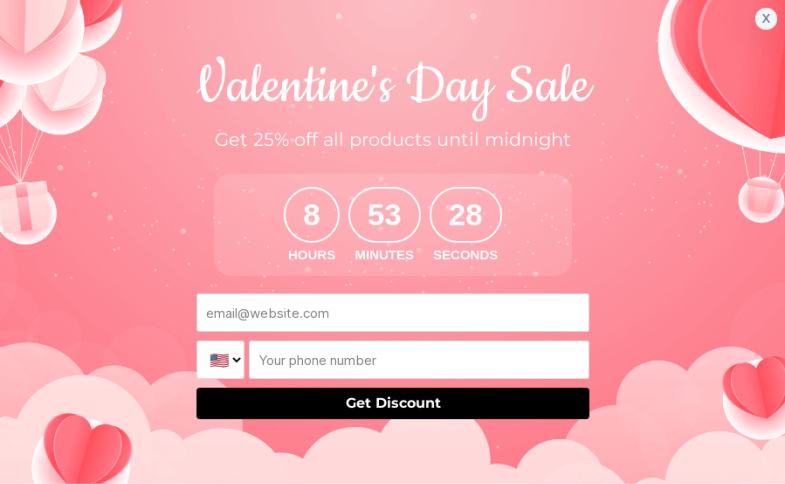 Set Prices Wisely
Because it's a sale, your products will be cheaper than normal. So, don't make them too cheap, as this could lead to a lousy present and customers may be hesitant to buy.
Tap into Valentine's season mood and boost your sales with strategic pricing. According to WalletHub's 2018 Valentine's Day Survey, nearly half of the consumers expect a gift worth around $50. Offer your products at this price point during the holiday to take advantage of this sentiment.
3. Make your delivery date visible
Delivery time is a crucial factor for any business. During the holidays, customers take delivery dates very seriously; late gifts mean nothing, and they want their orders to reach their special ones on time.
To ensure that visitors become buyers, it is essential to make delivery dates clear and specify the last date to place an order to ensure timely delivery.
If you want to display your delivery date on your product page or cart page, try using Omega Estimated Shipping Date app. It will help you communicate all shipping information and policies upfront. Transparency will help to boost sales and conversion rates.
Valentine's Day is not only a day to make someone feel appreciated; it's also a day to make your customers feel special! The best way to do that is by providing a personalized shopping experience. Therefore, it would be much more beneficial to allow your customers to control their delivery time. By providing a date picker on your product page or cart page, customers can select the date they want to get their order delivered.
DingDoong can help you do this. It will not only provide them with a more convenient shopping experience, but it will also help to ensure that their orders arrive on time. Additionally, with DingDoong you can customize the look and feel of the date picker to match your store or event theme. This will help you give your store a spirit of love for Valentine's Day.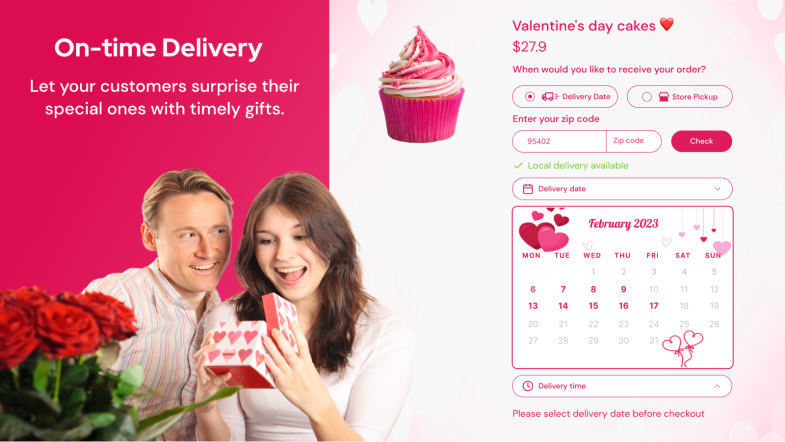 It also makes it easy to schedule deliveries, allowing you to set up cut-off times, same-day delivery, custom delivery dates, and order limits.
You can set up delivery date and time options based on your availability while still giving customers control of their delivery time.
Maximize your Valentine's Day success
Experience the best Valentine's Day yet with a solution that's effortless to get started, includes 20 free orders, live support, and a demo store for testing!
4. Enhance customers in email marketing
Email marketing is one of the most effective ways for e-commerce marketers to communicate with their customers. People can do a lot with email marketing, such as sending Valentine's Day gift suggestions, promoting products, offering special deals, or inviting them to join a Valentine-themed contest. Alternatively, you can simply send Valentine's cards to show your love to your customers and express your gratitude for their continuous support and loyalty.

To get started on your Valentine's email marketing strategy, use the following proven tips:
Start Early
Don't wait until the last minute to start your Valentine's Day email marketing campaign! Get a jump on the competition by beginning your outreach as soon as possible. This will ensure that your customers are reminded of the upcoming shopping season and that your brand stands out from the crowd before their inboxes become overwhelmed with Valentine's Day promotions from other companies.
Segment
For maximum impact, it's essential to personalize your emails by segmenting your audience. Consider segmenting by purchase intent to determine who customers are looking to buy for and then send them tailored gift guides. Don't forget to celebrate all kinds of love, not just romantic love, to ensure your offerings are varied. Additionally, you can segment your emails by customer journey to send reminders and extra promotions to cart abandoners.
Give Your Email an Engaging Subject Line
Stand out from the crowd of promotional emails that flood customers' inboxes every day by crafting a catchy and impressive subject line. Consider adding an emoji or special offer to make your email more eye-catching.
Some email subject line ideas to get you started: here
Use Valentine's Day Email Template Design
Make your emails even more eye-catching by using Valentine's Day-themed templates.
Get more visual Valentine's Day ideas for your email: here
Visit free Valentine templates and HTML: templates , HTML
Best Shopify apps to boost sales this Valentine's Day
5. Woo your social media audience on Valentine's Day
Create a buzz and engage customers with your brand through love-themed photoshoots and eye-catching graphics, hashtags, and interactive content.
Photoshoots and graphics
Immerse customers in a world of love and passion with stunning visuals. That will leave them with a lasting impression.
Get more visual Valentine's Day ideas for your social media posts: here
Make them even funnier with meme-filled approach memes: here
Hashtags
Hashtags are an excellent way to promote any business on social media. You can easily track the success of your campaign by monitoring who is using the hashtag. We highly recommend using a combination of hashtags, one that is unique to your company and popular ones used by others.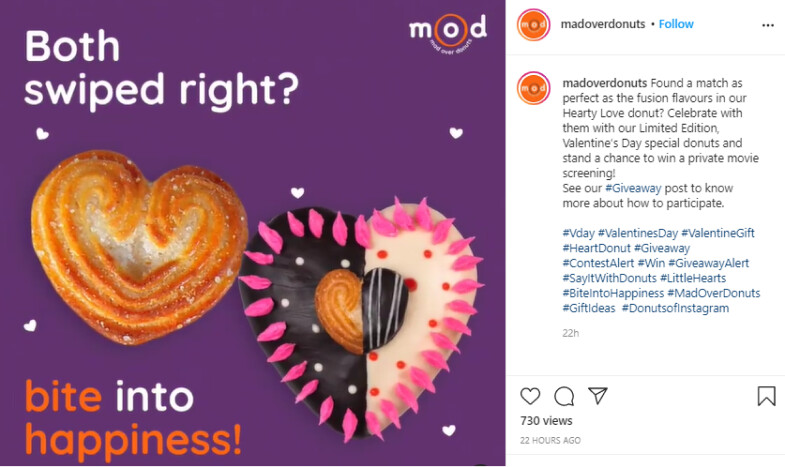 More ideas for your Valentine's Day hashtags: here
Creating interactive content
Share some gift inspiration
If your brand has products that make the perfect present, why not provide customers with some helpful gift guides? Showcase your products in a creative way and make it easier for customers to find the perfect present for their loved ones.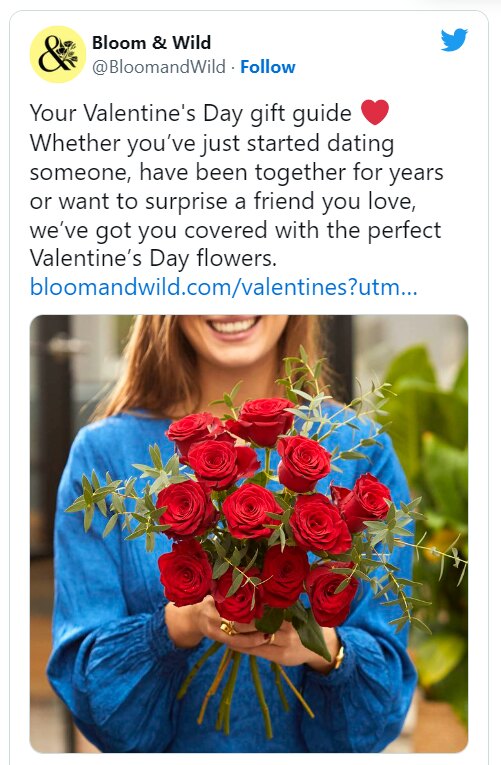 Run polls and ask
Run polls and ask your customers to share their opinion; it's the best way to draw their attention. By doing so, you can gain valuable insights into what your customers think and feel, and use that information to make informed decisions about your business. Additionally, it can help you build relationships with your customers, as they will feel heard and appreciated.
Create a competition
Competitions are a great way to engage people and get them excited. You can hold a contest by asking people to share their romantic stories and photos or make their Valentine's Day cards. Try to get as much engagement as possible by asking people to comment on your post, share it on their wall, retweet it, or use your brand hashtag. This will help you reach a new audience, increasing your brand visibility and encouraging more people to talk about your brand.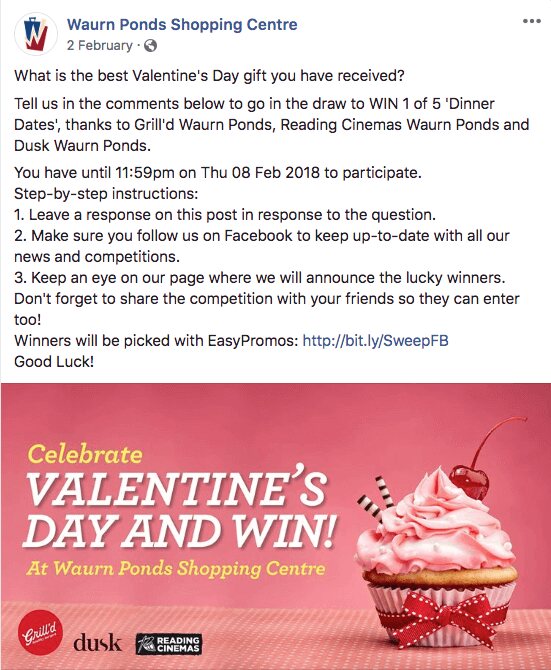 Promote a giveaway
If competition isn't your brand's style, why not try a giveaway instead? This can help to improve people's engagement with your posts, as more people will comment, tag, like, save, and share them.
Giveaways can also be a great way to collect more user-generated content. For example, if you require people to share a photo of themselves using your product in order to enter the giveaway, more people will be exposed to your product.
To maximize the impact of your giveaway, you should start it before Valentine's Day so you can announce the winner on the big day.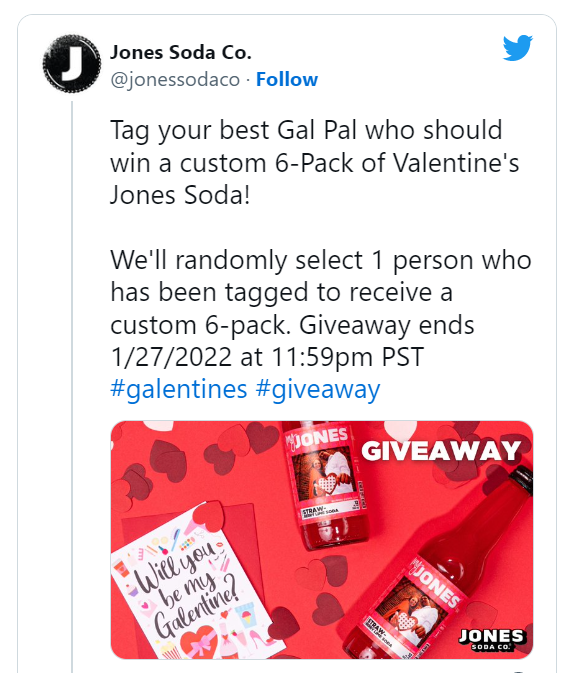 Takeaways
There are tons of creative Valentine's Day marketing ideas out there to help you boost sales and conversions on your e-commerce store. But we believe the suggestions mentioned above are practical, easy to implement, and cost-efficient. Give them a chance and you'll be amazed at the results!
Start with your store first. Tailor your products, create a romantic atmosphere, make it easy to navigate, and create a sense of urgency to retain customers. Then create discounts and promotions that appeal to customers. Try to engage with customers more via email marketing: sending Valentine's cards, gift guides, and offering hot deals are great ways to reach out. Don't forget to expand your customer base on social media with eye-catching images, hashtags, and interactive content.
Whatever campaign you are doing, always keep your customers in mind and be inclusive of all kinds of people regardless of their relationship status.
Happy Valentine's Day 2023! May your Valentine's Day sales soar to new heights, capturing hearts and profits alike.