Menus are known as an indispensable part of any food service business. It is not a mere place where people pick their meals from, it's a business card where diners can get to know more about the business branding and stories.
Growing in popularity during the Covid-19 pandemic to meet the requirement for sanitation safe and ensure a contactless dining experience, digital menus are still here to stay and continue to dramatically rise in the years to come. Because they can tell customers more than printed and paper one can do, and bring great advantages for both diners and business owners. Not to say, it has gradually replaced traditional menus, especially in quick service restaurants (QSR). Digital expert says, it's not a fad, it's a revolution.
So, What makes digital menus become so popular? What's the reason behind this transformation? In this blog, you'll discover all things about digital menus, their definition, forms, and effectiveness. We also reaffirmed the answer to the question of whether digital menus are replacing physical ones in a more objective way.
From Traditional Menus to Digital Menus
Over the past few years, restaurants have become increasingly competitive. So business owners are compelled to make instant innovations to meet customer demands and expectations. Menus are the first point customers contact with restaurants. Therefore many business owners have upgraded and redesigned their menus with the font, color, and brand combination to attract customers more.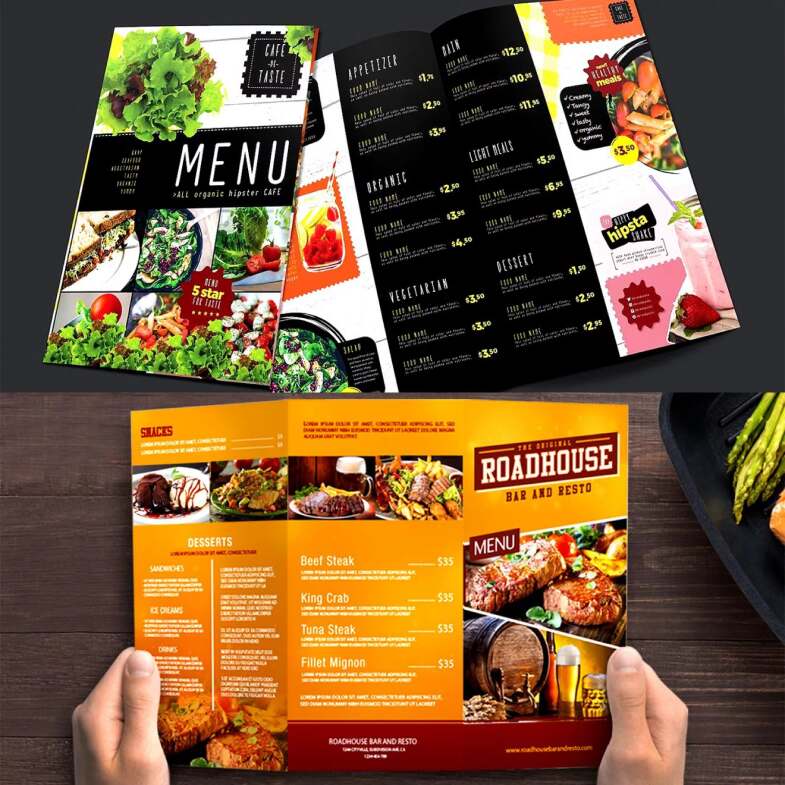 However, the traditional menus (printed, PDF, or paper) can't still overcome their limitations and meet higher expectations from diners. It's not user-friendly, customers have to flip between pages to keep track of all the menus and pick their orders. They are also limited in their ability to interact with the menu, as to zoom in or out to have a more clear insight or make an order on their own. With the meals just only a static image and price included, sometimes they are confused and don't know exactly what they will have, they have to ask the wait staff for their assistance, and you know the service staff is not available all the time and not all of them show their hospitality.
To business owners, it would cost them so much if they have any updates for their menus like a new dish or price change. It's also hard for them to provide any extra information like upsells, recommendations, hot deals, or advertising info to their customers. Any channels that can communicate with customers are so valuable, and with traditional menus, restaurants have lost many opportunities to engage customers more.
Therefore, digital menus are born to deal with all problems for both diners and restaurants which traditional menus can't.
Digital Menus
Definition of Digital Menus
Digital menus (electronic menus, e-menu) are digital versions of printed menus but they're much better. It's where a list of dishes and drinks is vividly and intuitively displayed on electronic devices such as smartphones, tablets, and computers. With just a few taps and swipes, users can easily monitor the entire menu and order quickly. Normally, digital menus will be connected to the restaurant or cafe management software system or POS technology to streamline the ordering and payment process, increase operational efficiency and bring a more convenient experience for customers. That's the reason why digital menus are widely used and expected to boom down the road.
Some common forms of Digital Menus
1. Digital menus on electronic boards
When you enter a restaurant or a cafe, you often see a large board glued on the wall, which displays the menu, advertising information, and special offers of the shop. Customers are often irresistibly attracted by vivid and intuitive images, slideshows, or videos shown on the screen. Therefore, digital menus under the large board form are considered an effective marketing channel to introduce diners to new dishes and promotions.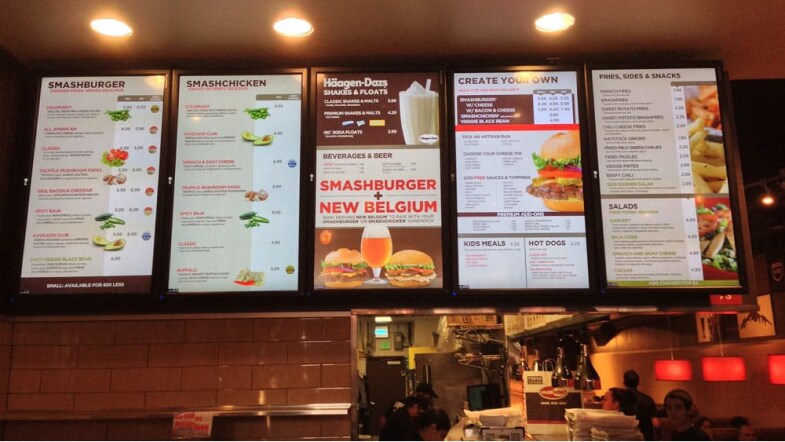 2. Digital menus on phones, tablets
It's one kind of e-menu installed on mobile devices, most commonly tablets. They are equipped for service staff to make orders for their customers or equipped at each table for customers to order by themselves.
To the e-menu equipped for order staff, once the order is completed, the order information will be directly transferred to the kitchen area. The order staff doesn't have to take note of the order on paper and then takes time to move from the service area to the kitchen area to transfer the order.
With the e-menu equipped at each table, diners can freely choose dishes, and make their own order without waiting for staff.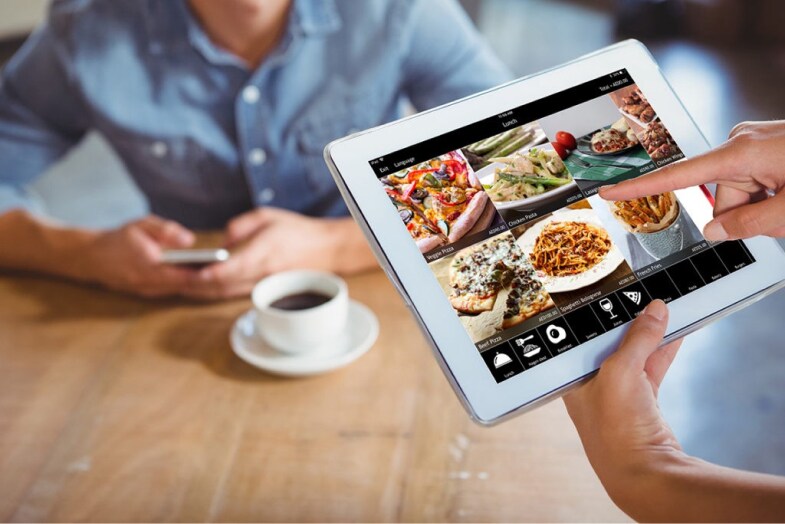 3. Digital menus on self-order kiosks
Self-ordering devices have a large touch screen where the menu is displayed visually and can be interactive, allowing people to order quickly by themselves. Order will be transferred to the POS system and relevant departments.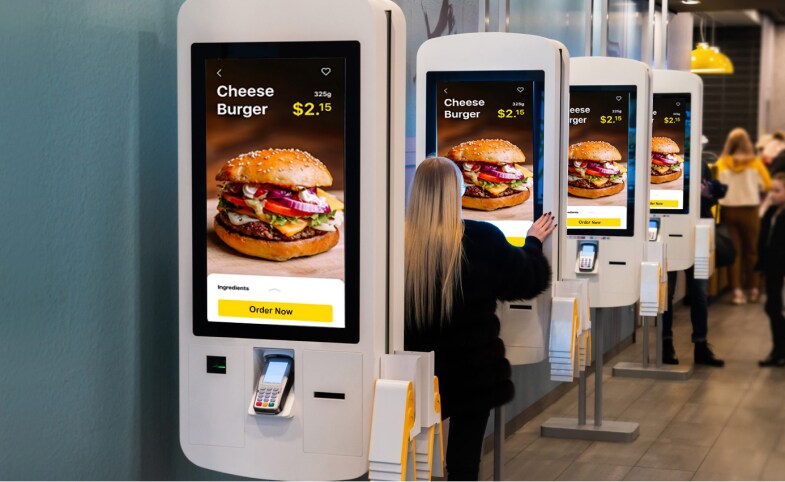 4. Digital menus in the form of scanning QR code
With the two above-mentioned forms, diners are enabled to make orders on the restaurant's device. But with this digital form, customers will use their personal smartphones to scan a QR code to open a web-hosted link and access the digital menu system of the store without downloading any apps required. Instead of exchanging the printed menu among members in a group, each of them can scan the QR code to view the menu, and choose and actively order by themselves.
All the order information as table number and order list will be transferred to the kitchen area as soon as customers confirm the completion of the order. Order process and dine-out experience now with the QR code menu have become convenient and easier than ever.
Some great benefits Digital Menus can offer
1. Display menus in a more informative and engaging manner
One of the prominent characteristics of Digital Menus which set them apart from traditional ones is the ability to display menus in a more informative and engaging manner.
They show HD images, slideshows, and videos of food and promotions vividly and intuitively to create fancy menu looks and likes that customers are irresistibly attracted to and they tend to spend more as a result.
In addition, Digital Menus show diners full of items information from the portion, ingredient, allergen, caroline information, and its modifiers, so diners get more confident in what they will have, and make their orders decision more quickly. More amazingly, Digital Menus can auto-translate menus in different languages and currencies, which is so meaningful for foreign diners who are passionate about native cuisine and want to try them out.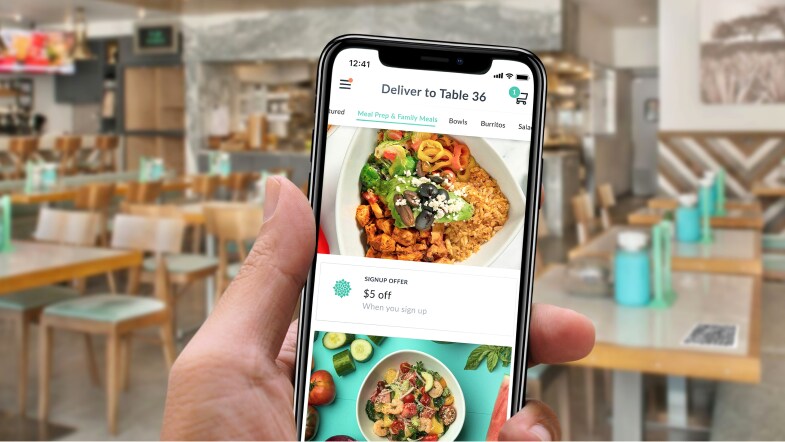 One of the remarkable abilities of digital menus is showing extra information such as recommendations, promotions, or advertising information on the right screen at the right time and to the right people. Provided that you are in a good mood to give a free brownie to any diners ordering tea and spending over $20, with just one click of setup, a popup with the exclusive offer will instantly appear as soon as diners confirm their orders. It's also applicable in some similar cases of upsells. When customers pick a meal, automated recommendations of related or frequently bought-together products will appear to encourage them to buy more.
Beyond that, restaurants and cafes are flexible to show different content for their menus for different dates and times and manage them on the time schedule, such as highlighting special food by date or showing exclusive offers for special occasions like restaurants' birthdays or Christmas day.
Not to mention, by digitizing their menus, all business owners may display their menus in the way they expect.
2. Update menus instantly without paying extra for printing and update costs
It's so easy and convenient for restaurants or cafes where their menus can be unexpectedly changed over time based on the availability of ingredient supplies to do any changes to their menus just with a few taps in minutes. All updates are constantly made and unified across multiple places where menus are shown as websites or management software.
It's far more important for the customer experience too. They also grab the current status of the menu in real time. Therefore, they don't have to bear the feeling of disappointment when ordering a meal on the physical menu, and later for a while, the order staff approaches and notices that the last one has been taken by another.
3. Collect customer feedback reviews directly and enrich customer data
A feedback section is created right on the digital menus and every diner is requested to submit as soon as they finish their meals. Valuable data collected on customers will be transferred to marketing or sales departments where they're responsible for doing research. So with the support of digital menus, restaurants or cafes easily measure their customer satisfaction and know areas that can be improved to create a more friendly and personalized dining experience.
4. Streamline the food ordering and payment process
Restaurants or cafes with QR code menu ordering services can easily optimize their ordering & payment process, which also benefits customers as well.
Customers
When entering the restaurant, diners just pick a slot, sit down and scan the QR code on the responsive table with their phone cameras to make orders by themselves without waiting for the order staff. Order information will be sent directly to the kitchen area. Diners just keep track of their order progress, chat with staff if they have any specific requirements, and wait for the meal served. The order-making process happens so quickly, simply, and conveniently. They also do the payment directly through the QR code ordering system. All information will be sent to the management software of the restaurant to make sure the customer experience is seamless.
Enhance your customer experience with a QR Code menu
Businesses
Quick-service restaurants (QSR) are the best candidates for QR-code food ordering. Thanks to the optimized ordering & payment process, they are able to seat more customers and increase the table turnover ratio while saving on time and staff costs.
5. The outlook
Without a doubt, although traditional menus have improved their design to make a better impression on customers, they still lack the ability to present the menu vividly in video or gif format, update changes instantly, highlight best-selling items or exclusive deals or create interaction and enable self-order service. That's the reason why digital menus are increasingly used and invading other hospitality industries such as hotels, bars, swimming pools, and so on.
Technology and costs
Because of the remarkable benefits that digital menus can bring, many people are still skeptical about them and wonder how much they will be charged and how complicated it would be to set up. Surprisingly, the cost of a digital menu, especially one in the form of QR code scanning, is much cheaper than the printing and update costs of a traditional one while delivery results are worth all the tea in China.
Additionally, digital menus are so easy to set up and update in minutes. They are well-integrated with POS technology at restaurants or cafes to ensure a consistent management flow. The QR ordering process is also user-friendly as the way people often make an order on a food delivery app, but it's much more advanced, instead of installing an app, they can easily access the restaurant menu by scanning a QR code to open the menu browser.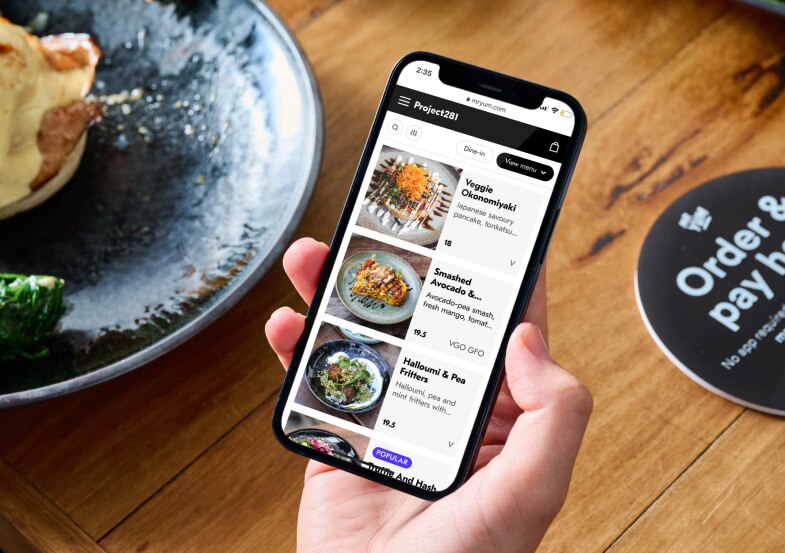 Are Digital Menus replacing Physical ones in the restaurant industry?
Although it's clear to see the dramatic growth of digital menus in QSR and their invasion into other hospitality industries, it's quite hard to say they can replace traditional ones entirely. While many are tech-savvy, love modern ordering, and want more privacy, some still prefer paper menus with traditional servers. They like to communicate with the wait staff and like the feeling of being taken care of. Business owners should have their own choices based on their segment and priority. But to quick-service restaurants (QSR) where their main target is to seat more customers and increase the table turnover ratio, digital menus with QR code ordering experience are a must thing they should bet on right now!