As a business owner, you know that managing different products with varied availability can be challenging. Imagine owning a cake store with a variety of delicious cakes to offer. Some cakes can be delivered within two days, while others are special ice cream-topped cakes that require same-day delivery due to their delicate nature.
Now, let's consider an online flower store with a wide variety of beautiful blooms. Usually, flower deliveries are available from Monday to Thursday. However, during special occasions like Mother's Day or Valentine's Day, we introduce exclusive flower arrangements that are only available on those specific days.
In such cases, setting unique availability or delivery dates becomes crucial to ensure smooth operations and effectively manage customer expectations. Dive into the blog below, where we have a simple step-by-step guide to show you how.
Why is it necessary to tailor delivery date picker for different products?
Tailoring delivery dates for different products is essential for several reasons:
Product Nature: Different products have varying characteristics and requirements. For instance, perishable items like cakes with ice cream toppings need to be delivered on the same day to maintain their freshness and quality. On the other hand, non-perishable items may have longer delivery windows.
Customer Expectations: Meeting customer expectations is crucial for any business. Customers expect timely delivery, and setting appropriate delivery dates for each product ensures that customers receive their orders when they expect them. Failing to meet delivery expectations can lead to dissatisfaction and potential loss of business.
Operational Efficiency: By assigning specific delivery dates based on product characteristics, a business can optimize its delivery process. This ensures that the right products are prepared and dispatched at the appropriate times, minimizing delays and potential mix-ups.
Inventory Management: Tailoring delivery dates allows for better inventory management. It helps prevent overstocking or stockouts of certain products, optimize storage space use, and reduce unnecessary holding costs.
Marketing and Seasonal Promotions: Setting unique delivery dates can be part of marketing strategies. For example, introducing exclusive products available only on specific days can create a sense of urgency and drive customer interest during special occasions, leading to increased sales.
Customer Experience: A tailored delivery approach enhances the overall customer experience. It shows that the business cares about providing timely and efficient service, which can lead to higher customer satisfaction and loyalty.
Handling Complexity: Managing different delivery dates can be challenging, but with proper planning and systems in place, it becomes manageable. Advanced order management systems can help streamline the process and ensure everything runs smoothly.
In summary, tailoring delivery dates for different products is necessary to ensure customer satisfaction, operational efficiency, and effective inventory management. It allows businesses to cater to the unique requirements of each product and meet customer expectations consistently.
How to set delivery date picker for specific products on your Shopify store
Introducing DingDoong: Delivery + Pickup, the new app now available on the Shopify app store, designed to empower merchants with the ability to set custom delivery dates for each product.
Discover DingDoong on the Shopify app store!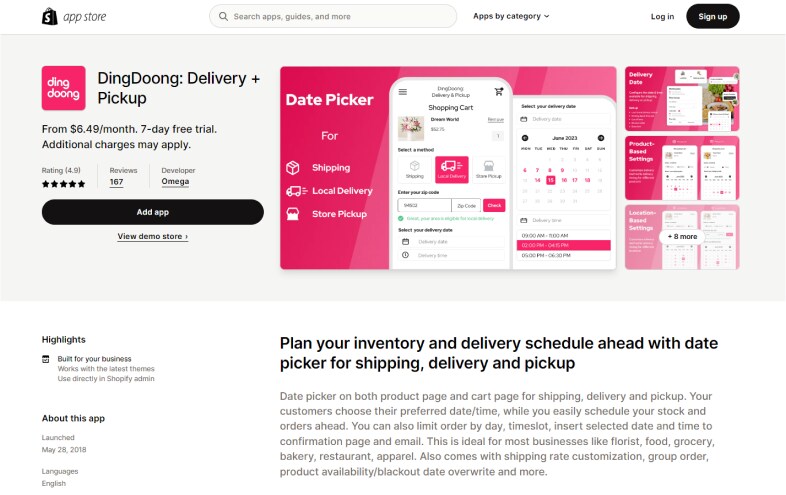 To get started with product-wise delivery dates, follow these three essential steps:
Step 1: Configure your delivery time frame
Set up your general business availability by defining working days, lead time (preparation time), delivery window, cut-off time, and time slots.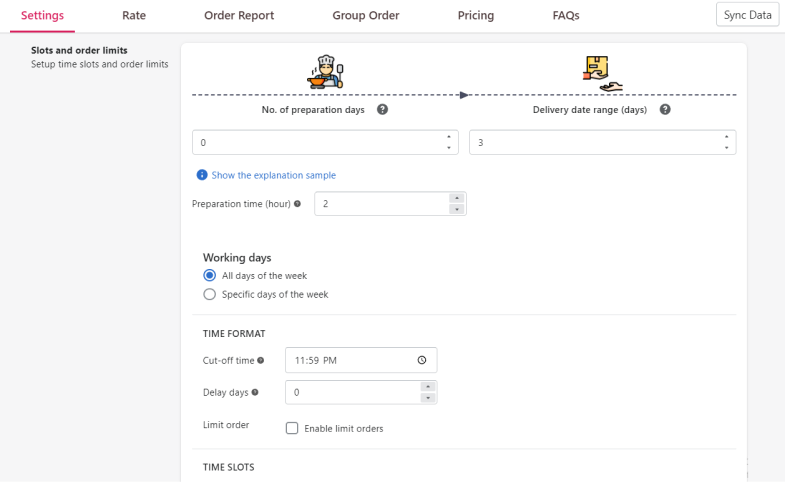 Step 2: Select product availability
Choose whether to apply the delivery time frame to all products or only specific ones.
Step 3: Customize delivery dates
Tailor the delivery date for each product or collection according to their unique requirements.
These settings allow you to customize the preparation time, available dates and times, as well as blackout dates and times for specific products. This can be useful for businesses that offer products with varying delivery requirements.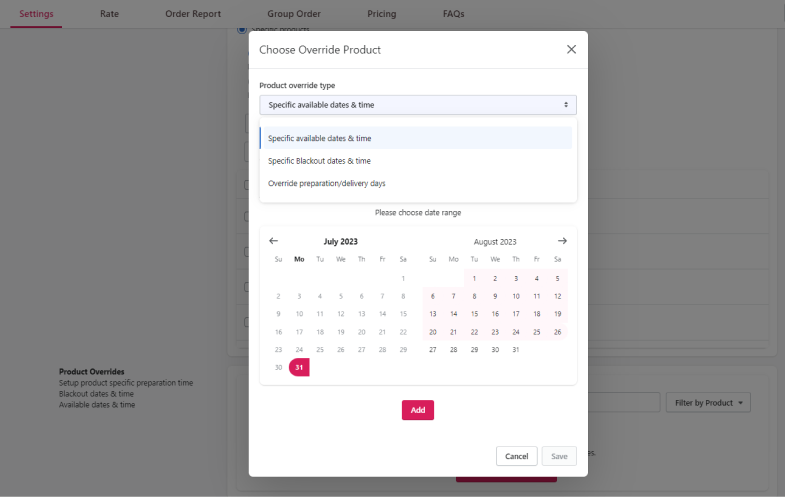 Product-specific preparation time:
Some products may require more time to prepare than others, and you can set individual preparation times accordingly. This allows you to manage the expectations of customers and ensure that the products are delivered on time.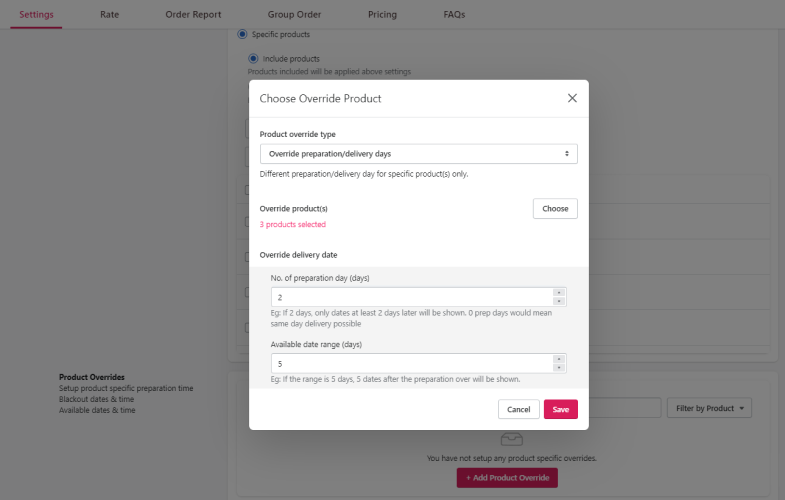 Product-specific available dates & times:
Certain products may only be available for purchase during specific periods, and you can customize these availability dates and times. This can be useful for seasonal products or limited-time offers.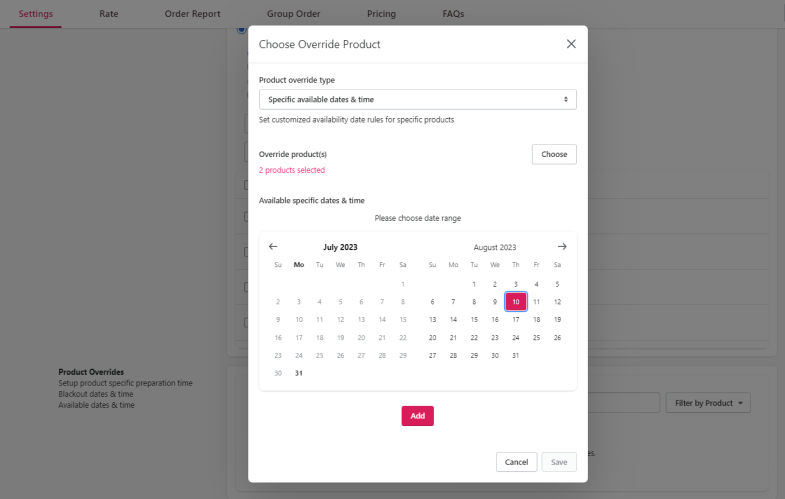 Product-specific blackout dates & times:
There may be certain periods when you cannot deliver specific products, such as during holidays or maintenance periods. Blackout dates and times allow you to block deliveries for these products during those periods.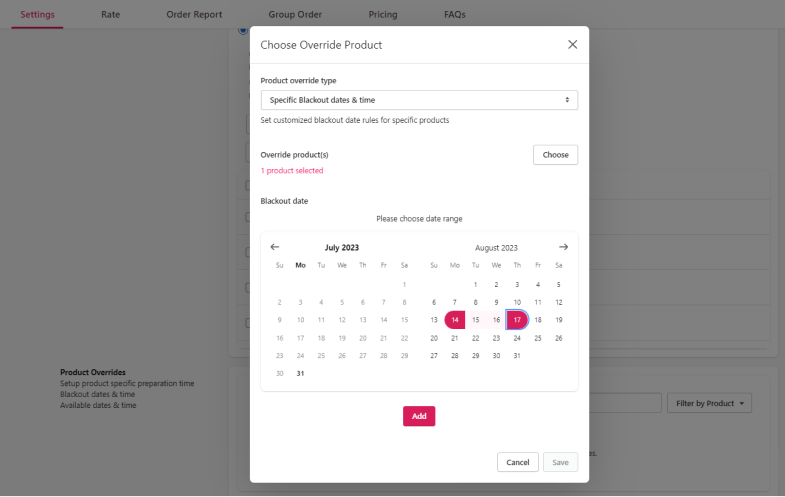 Implementing these product-specific delivery settings can enhance the flexibility and efficiency of your product delivery process, ensuring a better customer experience and optimized operations.
Read more: How To Set Delivery Date Picker For Different Zip Codes On Shopify
Example result
Check the example below to see how product-based delivery dates be shown in action.
Customers who choose Flower Bouquet Blütenperle can select delivery dates from the calendar below: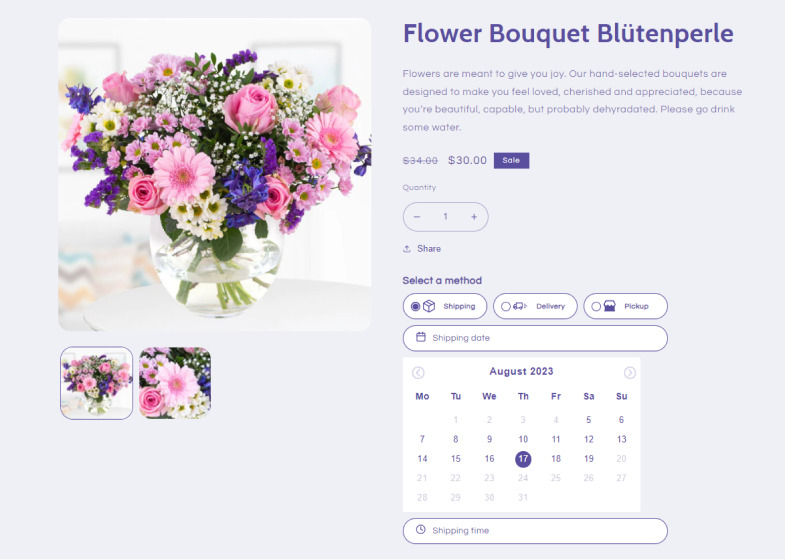 Customers who choose Flower Bouquet Colorful Gerbera can select delivery dates from the calendar below: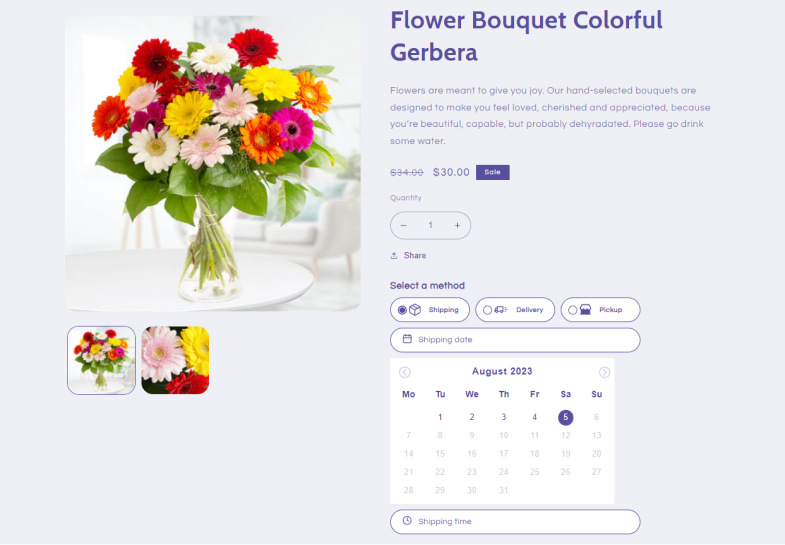 Read more: Zone-Based Delivery Rates for Shopify: A Quick Setup Guide
Conclusion
In conclusion, customizing delivery date picker for specific products on your Shopify store can make a significant difference. With tools like DingDoong, you can offer personalized delivery options, ensuring happier customers and smoother operations. Embrace this opportunity to enhance your store, satisfy customers, and stand out in the e-commerce landscape. Get started now and witness the positive impact on your business!
🛍️ Efficient Deliveries Made Easy: Unlock DingDoong's Product-Specific Date Picker Now!
Deliver with precision: Customize dates for each product with DingDoong! Effortlessly master your order fulfillment today! 📦🚚
🎁 Exclusive Blog Offer! 🎁 Get DingDoong Now with 20% Off! Code: DINGDOONG1100 🚚 Streamline Your Deliveries Today! 💨 Grab the App via the Blog and Save! 🌐
Contact our Customer Support via email at [email protected] or chat in-app to apply the discount!