In today's fast-paced world, convenience is key when it comes to online shopping. The emergence of local delivery and local pickup services has not only become a popular trend during the COVID-19 pandemic but is also expected to continue shaping the e-commerce landscape in the future. With its ability to offer seamless and timely fulfillment, as well as cost savings, it's no wonder that customers are increasingly demanding these options.
To stay ahead of the competition and meet the evolving needs of your customers, it's crucial to embrace these order fulfillment methods. In this blog post, we will guide you through the step-by-step process of setting up delivery and pickup options for your Shopify store. Whether you run a small local business or are seeking to expand your reach, implementing these features will allow you to provide a tailored shopping experience that sets your business apart.
Don't miss out on this opportunity to enhance customer satisfaction, increase conversion rate, and optimize your operations. Join us as we delve into the world of local delivery and local pickup and equip your Shopify store with the tools needed to thrive in the ever-changing e-commerce landscape. Let's get started!
Set up Local Delivery and Local Pickup in the Shopify admin
Depending on your customers' needs and your business's capacity, you have the option to enable delivery or pickup separately, or both. The settings for each are separate, allowing you to navigate to the specific section you require.
Before enabling Delivery & Pickup for your Shopify store, it's crucial to carefully consider the following:
Locations
Ensure that you have set up all your business locations. They can be retail stores, warehouses, popups, drop shippers, or any other place where you manage or stock inventory.
Additionally, you can establish fulfillment priority based on your priority list and the availability of inventory.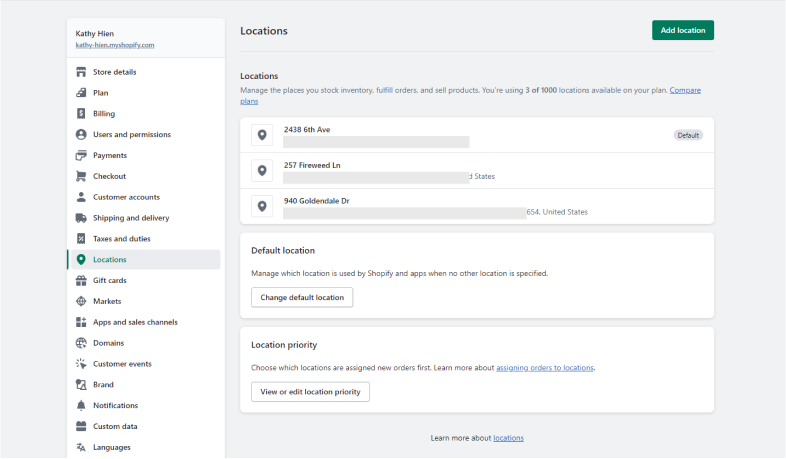 Remember to click on "fulfill online orders from this location" to have the locations available for enabling local delivery and local pickup.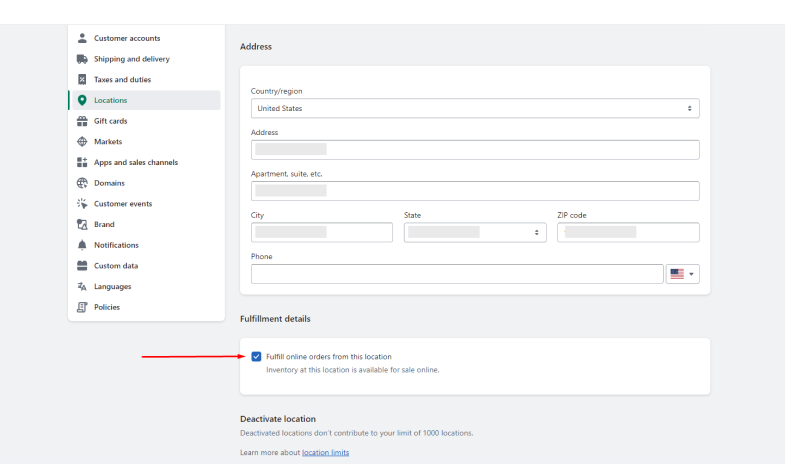 If you offer local pickup at a specific location, keep in mind that it must be a physical place where customers can come to pick up their orders. This location information is displayed on the checkout page, so it should be clear, correct, and easily understandable for your customers.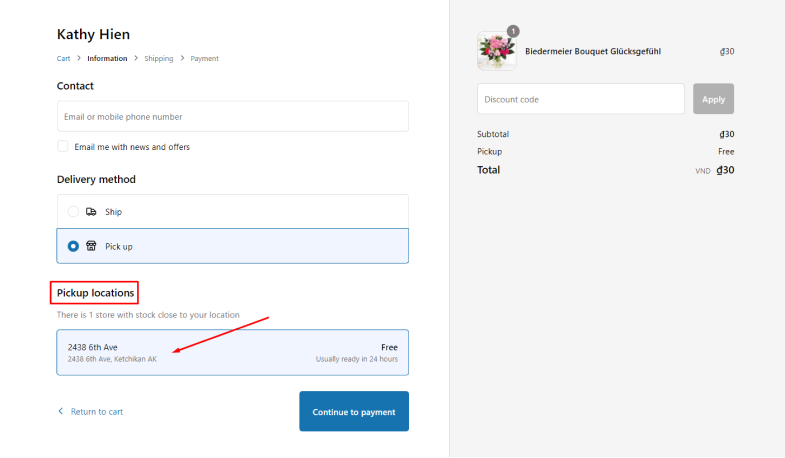 Products
When enabling delivery or pickup for a specific location, it's important to ensure that the products you set up are available at that location. If an item is out of stock at a particular location, the pickup option will not be displayed at the checkout. Therefore, it's crucial to maintain proper stock levels at each location to ensure a seamless experience for your customers.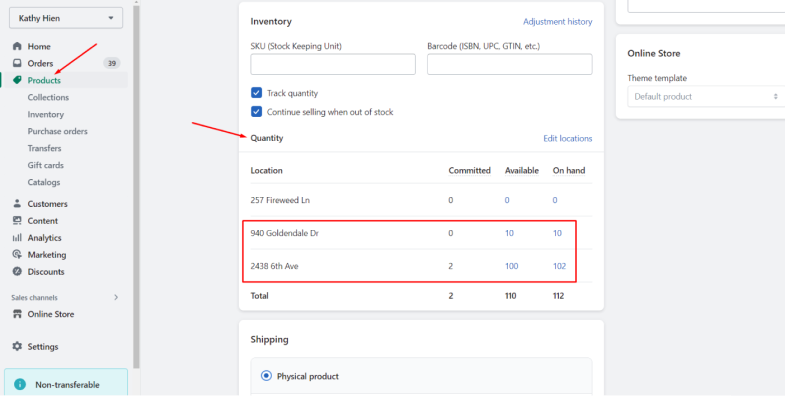 Set up Local Delivery
To enable Local Delivery in your Shopify admin, please follow these steps:
Step 1: Go to Dashboard > Settings > Shipping & Delivery > Scroll down to the Local Delivery section.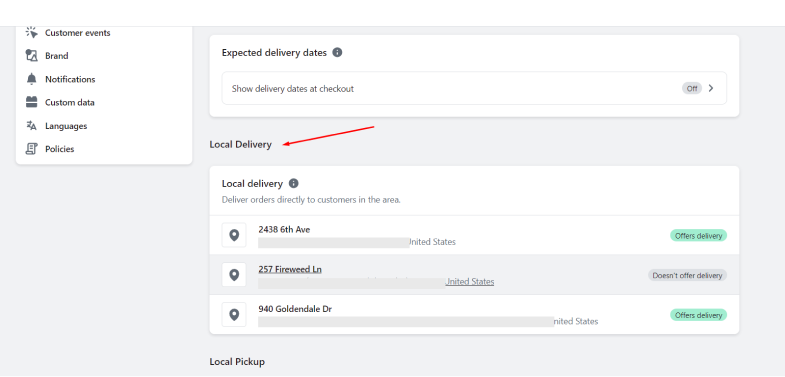 Step 2: Click on the locations where you want to set up local delivery and then click on "This location offers local delivery."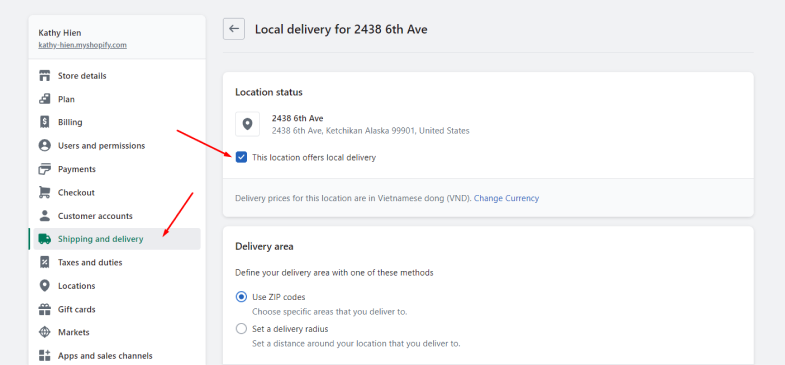 Step 3: Scroll down to the Delivery Areas section to define the areas where you offer local delivery as a fulfillment method. You can define these areas using postal/zip codes or by specifying a delivery radius around your location.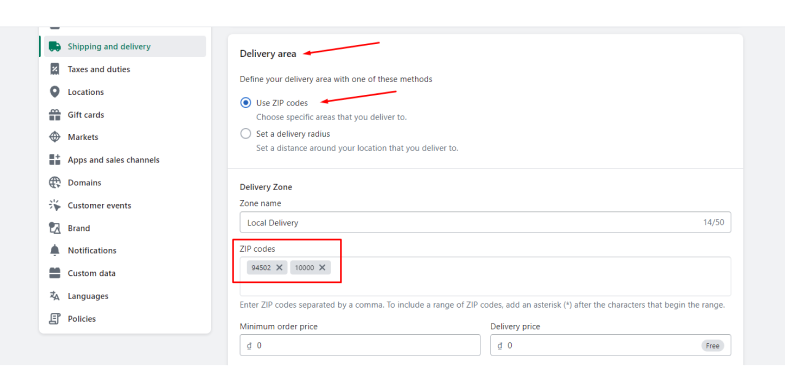 Step 4: Set up your delivery charge based on the order price. Make sure to note any specific delivery information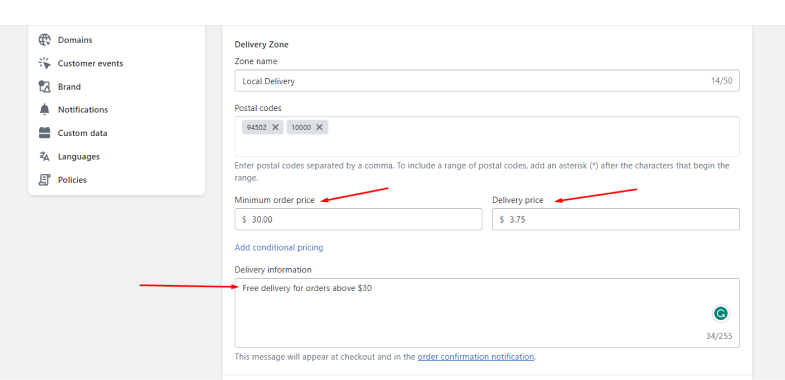 Finally, save your settings. This will enable local delivery for the selected location.
Set up Local Pickup
Step 1: Go to Dashboard > Settings > Shipping & Delivery > Scroll down to the Local Pickup section.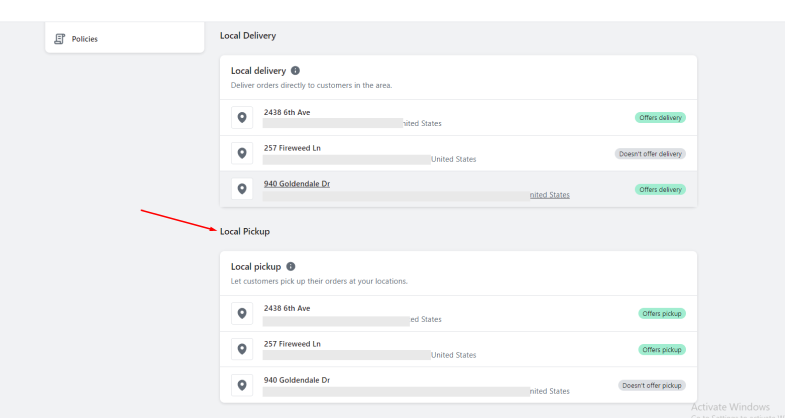 Step 2: Click on the locations where you want to set up local pickup and then click on "This location offers local pickup."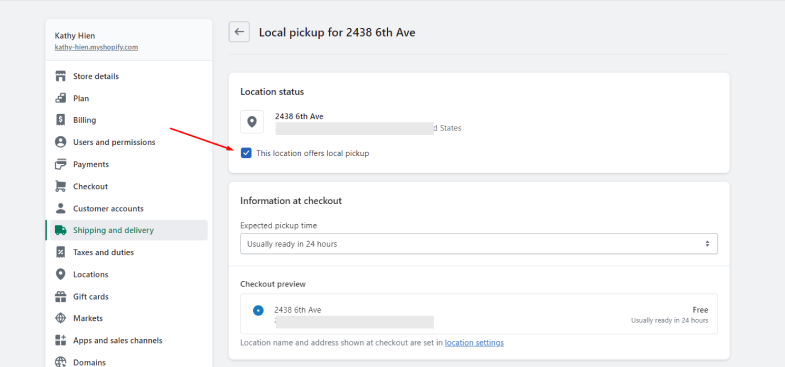 Step 3: Select the expected pickup time for customers.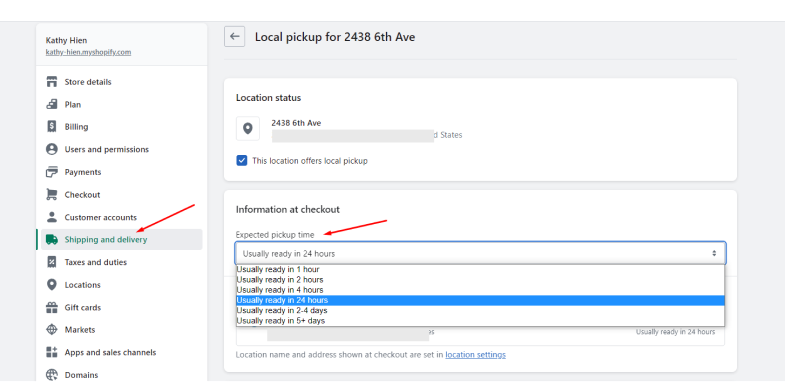 Step 4: Fill up the Pickup instructions, mentioning any specific guidelines or instructions for customers to follow.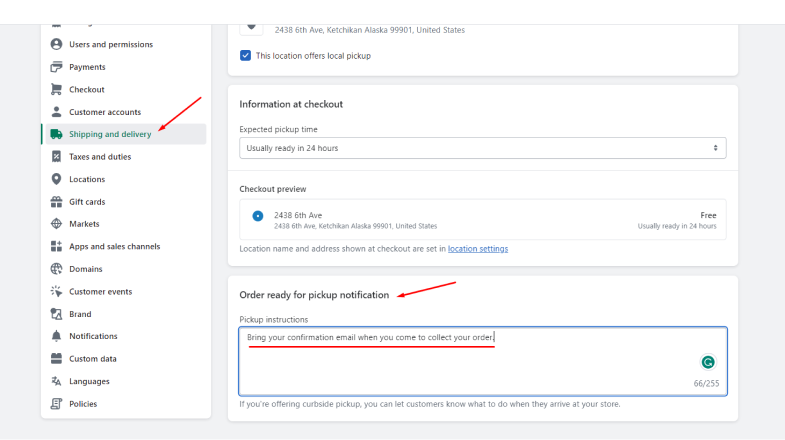 Finally, click Save, and now Shopify local pickup is enabled.
Read more: Maximize Customer Convenience: Explore Different Delivery Options for Local Business
While the settings in Shopify can be easily managed with just a few clicks, they may not offer the level of flexibility and customization required by your business. If you want to schedule delivery or pickup orders, set up a date and time for delivery and pickup, customize delivery and pickup at the product level, or implement customized delivery charges, you'll need to explore the options provided by Shopify apps specifically designed for local delivery and local pickup. These apps are designed to enhance your Shopify store's capabilities and provide the advanced functionalities you're looking for.
Shopify apps for local delivery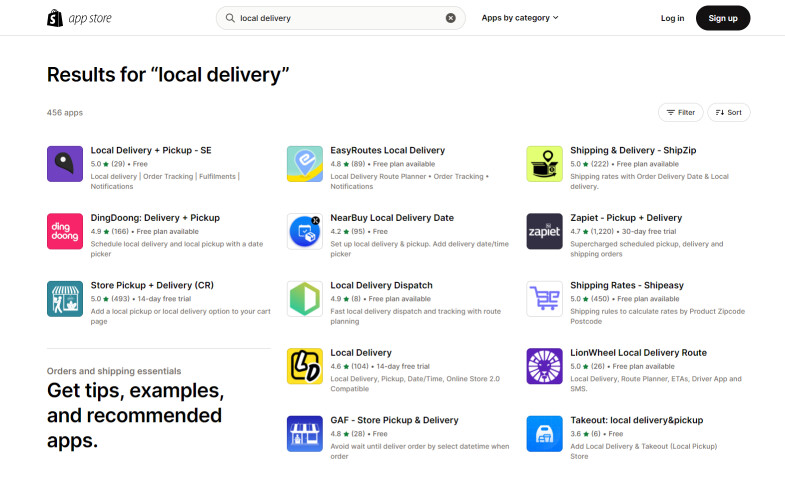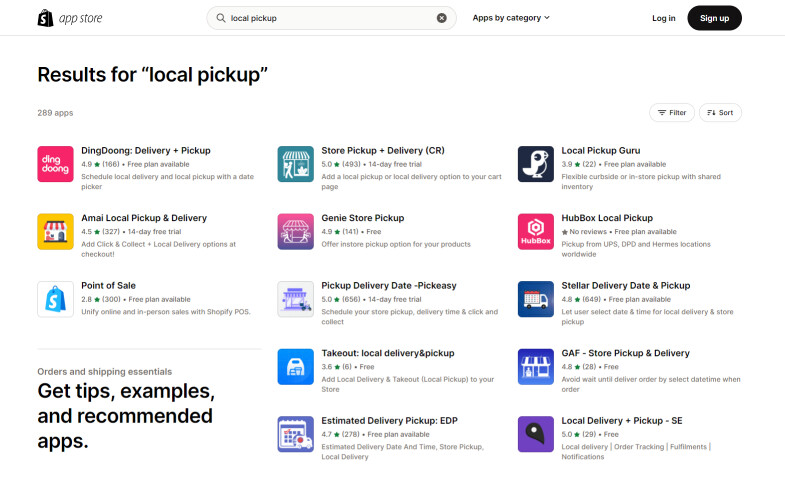 Now, let's move on to the next part and explore how DingDoong: Delivery and Pickup, a remarkable Shopify app, can assist you in setting up Local Delivery and Local Pickup seamlessly. Discover the features and benefits that can enhance your business operations and provide a great customer experience.
Set up Local Delivery and Local pickup with a Shopify app
Introducing DingDoong, the all-in-one solution that simplifies delivery and store pickup for both merchants and customers.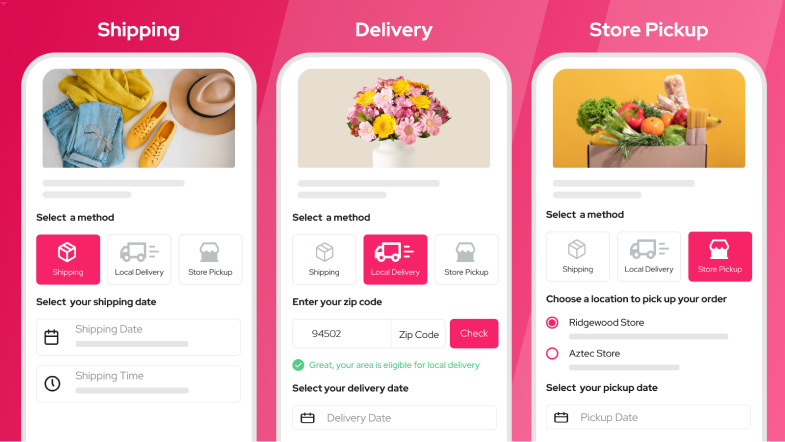 With DingDoong, you can:
Enable multiple delivery methods: Easily offer local delivery, local pickup, and standard shipping options to cater to diverse customer preferences.
Customize availability: Determine specific locations or products that are eligible for delivery or pickup, allowing you to tailor your offerings to meet your business requirements.
Manage order delivery date & time: Utilize DingDoong's convenient date picker to set up shipping, delivery, and pickup dates. This empowers customers to choose their preferred delivery time while enabling you to schedule orders in advance.
Limit order: Seamlessly control the number of deliveries by implementing restrictions based on specific days or time slots. This ensures efficient management of resources and enhances the customer experience.
Tailor delivery rates: Tailor your delivery rates based on various conditions such as postal/zip code, order weight, or order value. This allows for accurate and fair pricing based on specific parameters.
With DingDoong, you can streamline your delivery and pickup processes, providing an enhanced and customizable experience for both you and your customers.