Diners have been so familiar with how restaurants treat them with traditional servers, which is always defined as intimacy, and hospitality. But the outbreak of covid 19 pandemic has brought a lot of changes to the restaurant industry, especially the rise of contactless dining experience in order to reduce face-to-face contact, the spread of germs, and ensure more covid security. At that time, to both customers and restaurants, safety is always at the front of their minds.
But amazingly, after the global epidemic Covid 19, life and social activity seem to be normalized as they have been before but this method of ordering is here to stay, not to say, increasingly growing.
So, it's easy to recognize that contact-free ordering is not a temporary solution to make people feel safe dining in, it's a revolution changing table service for good, encouraging customers to become their own servers while delivering better service and customer satisfaction.
QR Code menu is considered the best tool that enables a self-serve and contactless dining experience. So, in this blog, we'll discover what QR Code menus are, how QR Code ordering works, and what advantages QR Code ordering can bring to both customers and restaurants.
Definition of QR Code menus
Many of us are familiar with self-service kiosks or tablet tables which are forms of digital menus at some restaurants. QR Code menu term seems to be newer, but it's also a form of the digital menu in which diners order directly on their phone instead of via customers' devices.
QR Code menu (quick-response) can be understood as a barcode that people can scan with their own camera phones or any QR reader-enabled device to access the restaurant's menu without downloading any apps required. Amazingly, with the QR Code menu, diners can do their whole ordering process without any support or interference from order staff, which reduces the physical interactions to the minimum.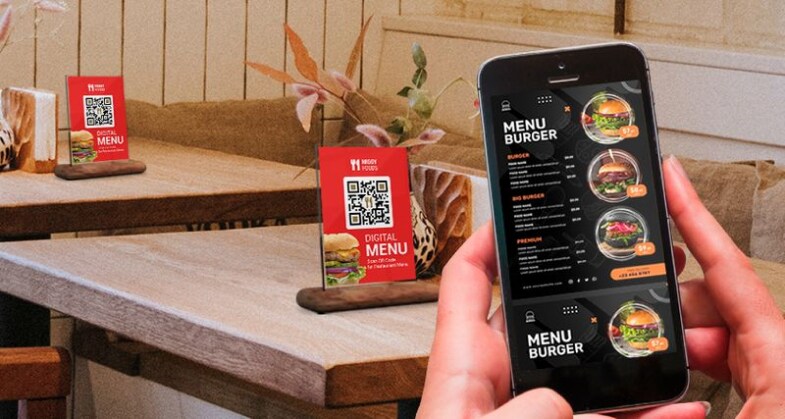 The way QR Code menus work
Traditionally, people enter restaurants, wait for order staff to give them a seat, provide them with a menu, write down their order, transfer order information to the kitchen area, bring the food out, give them a receipt and check their payment. In this way, servers are an indispensable part. If restaurants don't have enough staff, they can't serve their customers in a perfect way.
QR Code menus, the smart table ordering solution, and the revolution in the restaurant industry have reduced the need for order staff. People enter the restaurant, take their own seats, scan the responsive QR Code on their table, view the menu, and actively place their orders on their own devices, the order information is auto-transferred to the kitchen areas and the chef prepares the order, runner serves the order, diners check their bill and do the payment directly via QR Code ordering system. People order more safely, conveniently, and quickly. Dinners control all their dining-in experience as they expected.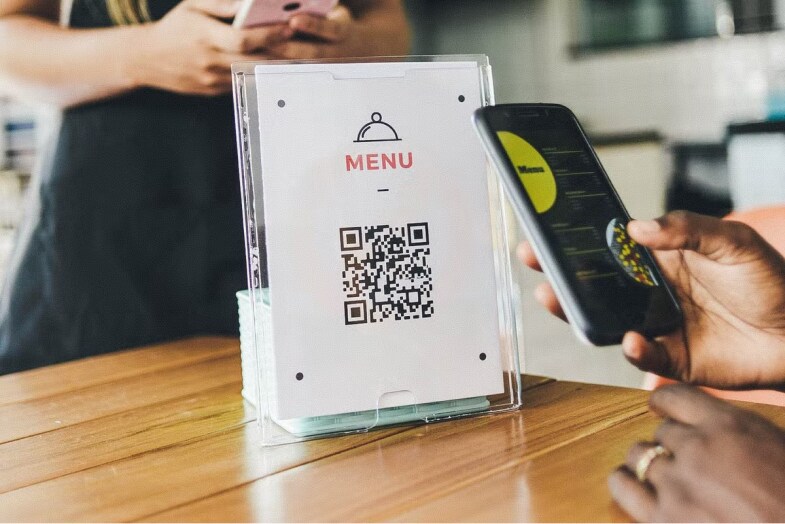 QR Code menus enable a self-service & contactless dining experience which is a win-win for both customers and restaurants
Drive better customer experience
Get a safe dining experience
Touchless dining experiences offered by QR Code technology give customers a more safe & hygienic way to enjoy their meals. Compared to the physical menus which are touched, and handled by hundreds of other guests and servers, paperless menus are the smart solution that reduces the surface that has to be touched and stops potential exposure to germs and viruses as result. Instead, people just touch their phones to do all the ordering process including making an order, paying, and sending their order request to the kitchen area.
According to Top Restaurant Software Trends for 2022/2023, 82% of customers said that contactless payments would make them feel safe dining in, and 81% said the same about contactless ordering options. With no paper menu, no receipt passing over hand, and less face-to-face contact, QR Code table ordering is being widely used in forward-thinking restaurants to ensure a safe dining experience for their dinners.
Skip the lines
Have your customers ever waited in lines to get a seat and make an order?
If you are a QSR (quick-service restaurant) and often witness the scenes, QR Code ordering is a new table ordering solution you should bet on right now. With no wait times and long lines, diners can become their own server, take their seats and make their orders in a fast and convenient way. The development of technology and the fast pace of life make people find the fastest way to do everything. Therefore, fast service and convenience are leading factors influencing restaurants now.
Get a total ordering control
QR Code menus let diners serve themselves, so they can drive their own experience as they expected. They can take their seat, view the menu, and order food at any time they want without any time pressure from the order staff. Everything goes so easily, immediate menus and ordering are fast accessible at the touch of a button. Dinners can order multiple times during their meal without flagging down a server. Additionally, diners tend to spend more because they have more time to choose items as well as not afraid of anyone judging their orders. That's the reason why more than 67% of on-premise diners prefer to order their food digitally.
Ensure the order accuracy
Waiters may make some order mistakes when taking care of many customers at once. Therefore, a contactless self-table ordering with a QR Code will free up the waiter from all transactional tasks, ensure order accuracy and lower the risk of human error. No mishearing or miscommunication happened among different departments, dinners are ensured to be served exactly as required.
Streamline the restaurant's workflow
Automate all ordering & payment process
QR Code ordering has transformed a restaurant business to become more accurate and efficient by automating all internal & front-of-house tasks.
Dinners are encouraged to become their own servers. They do their total ordering and payment directly on their smartphone without contacting the order staff or cashier. Staff are also free from transactional tasks, therefore they have more time to focus on attending to guests and getting items out to tables quickly.
Smart and autonomous table ordering trend with QR Code menus also contributes to creating a consistent experience for customers and a seamless management flow among departments for restaurants. That's the reason why contactless table ordering with QR Codes has been widely used by restaurants with the aim of optimizing their workflow, increasing operational efficiency, and creating a new dining experience to win their customers' hearts.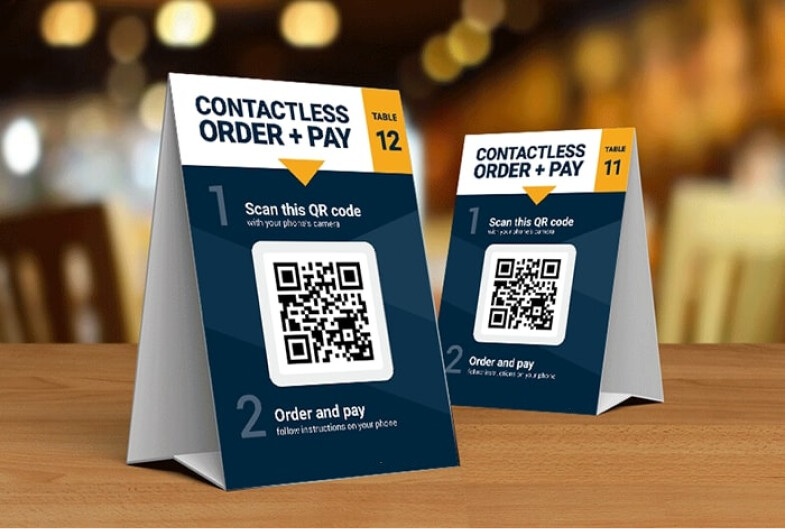 Better communication between management, staff, and customers
QR Code ordering makes communication between departments of the restaurant become more effective. No mishearing or mistranslation, all orders, payments, and customer information will be auto-transferred to the relevant departments and managed in a seamless flow.
Seat more customers and increase table turnover
QR Code menu allows dinners to place their own orders and helps the staff serve meals more quickly. Diners save their waiting times and staff saves time transferring order information across areas.
Reduce the need for order staff and save on labor cost
Even with a large order staff, quick-service restaurants can't still completely eliminate long lines and waiting times for their customers.
Additionally, the business situation is not stable every time and labor cost sometimes become a financial burden to some restaurants. QR Code ordering appears to fill the gap. This smart ordering solution reduces the need for front-of-house staff while ensuring delivery of the same, not to say, better customer service when compared to an on-site full-service restaurant.
Enrich customers & sales data
All order, payment, and customer information will be saved and transferred to all relevant departments, including marketing & sale ones. The data can be used to create personalized offers that entice guests to make a return visit, turning them from first-time guests into regulars.
Increase revenue
Restaurants do gain a lot from QR Code menus in terms of revenue growth. They can serve more customers with less staff. Customers may enjoy self-serve and contactless dining which has been proven to boost average customer spending by 20% compared to ordering in person.
QR Code menus enable restaurants to feature menus in the way they expected in real-time, which is so easy and convenient for them to upsell or prompt customers to buy more by displaying relevant supper deals or recommendations.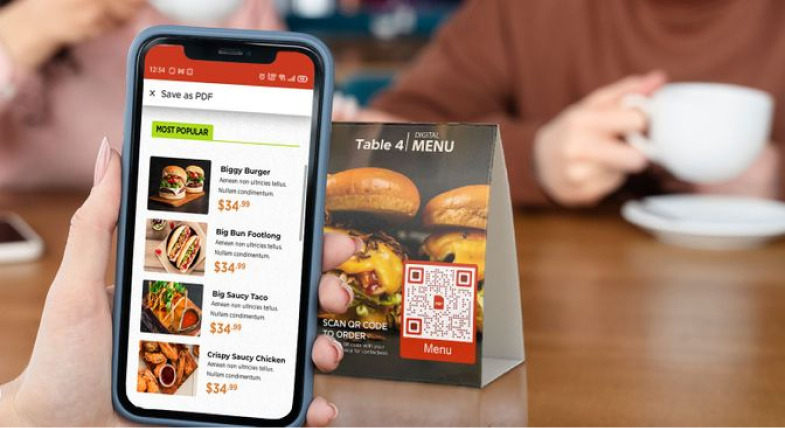 Has your restaurant kept up with the times?
The restaurant industry is easy to go from the outside, but look at it from a restaurant owner's point of view, the industry is extremely competitive and rough.
Therefore, a QR Code menu with a self-serve, contactless ordering experience is a must for any business in the food service industry that wants to stay competitive and keep pace with customer demand.
So what're you waiting for? Get started with DingDoong to push your restaurant business to the front of the digital race right now.