The average Shopify conversion rate is currently around 2%, meaning that 98 out of 100 site visitors leave without purchasing.
To make the most of your marketing efforts and drive revenue growth, it's essential to focus on conversion rate optimization (CRO). One effective way to achieve this is by providing customers with a seamless and personalized delivery experience.
According to a survey by MetaPack, 96% of consumers consider delivery an important factor when making online purchases. Furthermore, 59% of consumers are more likely to shop with retailers that offer a range of delivery options and clarify the delivery date
This is where DingDoong's convenient date picker can make a difference. DingDoong enables customers to easily select their preferred delivery dates that align with their convenience by offering a date picker for shipping, local delivery, and in-store pickup. This fosters a sense of control and reliability during the checkout process, enhancing the overall customer experience.
In this article, we will explore how DingDoong's convenient date picker can help boost your Shopify conversion rate. We will delve into the role of delivery options and delivery dates in conversion rates, as well as provide guidance on setting up a date picker for your Shopify store.
Check out the blog today!
Understand conversion rate
Definition
Conversion rate refers to the percentage of website visitors who take the desired action, such as making a purchase, signing up for a newsletter, or completing a form. Conversion rate optimization (CRO) involves making strategic changes to your website and user experience to encourage more visitors to convert into customers.
Factors influence conversion rate
When visitors bounce from your website without making a purchase, there can be several reasons behind their decision. It's important to closely examine the customer journey in order to identify and address these factors. Let's break down the two main stages of the customer journey:
Browsing Process:
During this stage, customers are exploring your website and forming their initial impressions. They evaluate the overall user experience (UX), user interface (UI), website design, and visual appeal. It's crucial to ensure that your website effectively communicates the unique value of your products and services, addressing visitors' pain points and meeting their needs. Consider whether your pricing is competitive and clearly displayed, and if your website instills confidence in visitors to add products to their cart. Factors such as website navigation, clear product descriptions, and an easy return policy also play a role in influencing the buying decision.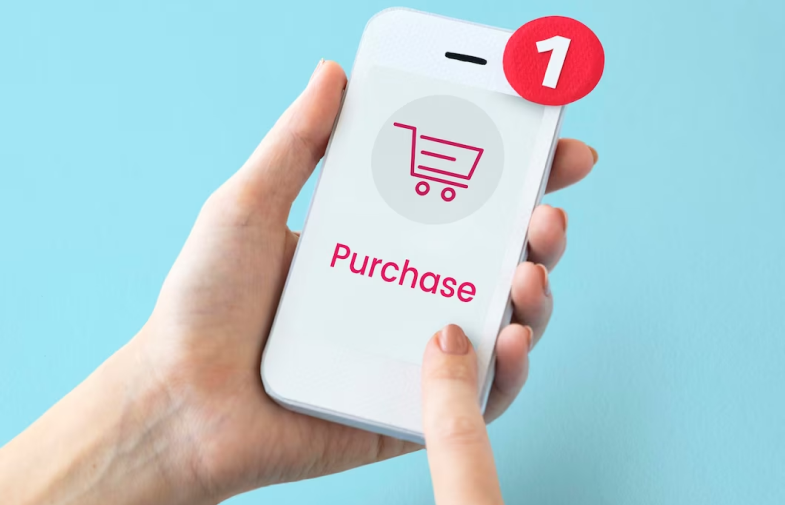 Buying Process:
Once customers have selected their desired products, they enter the checkout process. At this stage, there are several factors that can impact their decision-making. One key aspect is the availability of convenient delivery options. Customers want to know when they can receive their orders and how much they will need to pay for shipping. Offering flexible delivery dates and clearly communicating shipping fees can help instill confidence in customers. Additionally, ensuring that your Shopify store supports their preferred payment methods is crucial to facilitate a seamless buying experience.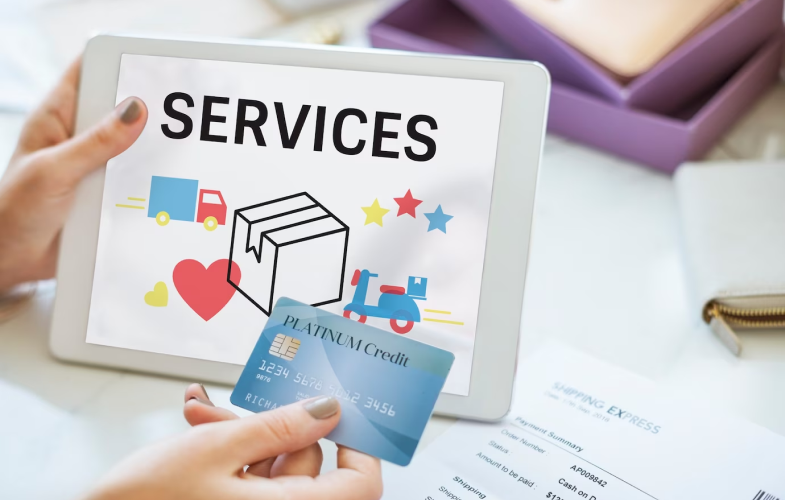 Among these factors, Delivery options and dates are crucial ones that significantly impact overall customer experience as well as the likelihood of customers completing purchases. This is where DingDoong's date picker comes into play. The convenience and flexibility offered by DingDoong's date picker directly contribute to an enhanced customer experience, ultimately boosting your Shopify conversion rate. In the following sections, we will explore in-depth how DingDoong's date picker can maximize your Shopify conversion rate and drive greater success for your online business.
Read more: 7 Ways to Increase Shopify Conversion Rate in 2023
How DingDoong's date picker helps you increase your Shopify conversion rate
Multiple delivery options
The delivery experience plays a crucial role in the customer journey, and it has a significant impact on your Shopify store's conversion rate. According to a study by MyTotalRetail, 77% of customers have abandoned purchases due to dissatisfaction with their delivery options.
With DingDoong, you can offer a range of delivery choices, such as local delivery, store pickup, and standard shipping, to enhance customer satisfaction and improve conversion rates.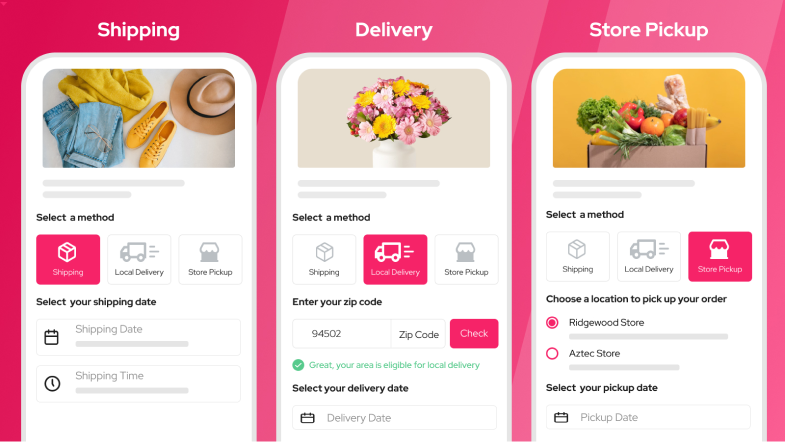 Explore DingDoong's delivery options now to cater to your customers' preferences and boost your Shopify store's success:
Local Delivery
The COVID-19 period witnessed a surge in the popularity of local delivery services as customers increasingly sought convenience and timely delivery. This trend is particularly pronounced among those purchasing food, groceries, and fresh products. As a result, customer expectations for faster delivery times have become more demanding, with customers now expecting delivery within 1-2 days for groceries and necessities, and 2-4 days for other products like furniture.
Read more: How to Set Up Local Delivery and Local Pickup on Shopify Stores
To stay ahead of your competition and cater to these evolving preferences, offering local delivery is an ideal choice. By focusing on regional and local areas, you can ensure prompt and reliable delivery, providing exceptional service to your customers.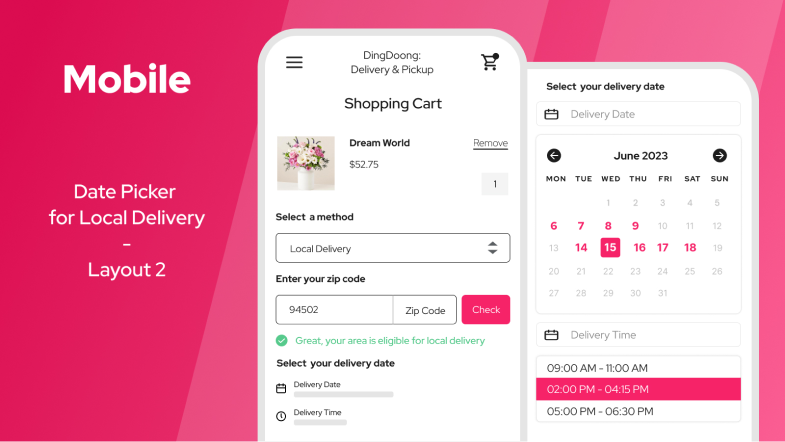 Start offering local delivery for your Shopify store today and elevate your success. Customize your delivery options to suit your location, products, and business availability.
For more details, refer to our documentation 👉 here
Store Pickup
According to a study by Invesp, 50% of respondents have made their online shopping decisions based on whether or not they could pick up their purchases in-store. Furthermore, it is projected that by 2025, 10% of all sales will be fulfilled through Click and Collect services. This rising trend is driven by several factors, including the ability for customers to see products firsthand before taking them home, the avoidance of shipping costs, and the overall convenience it offers.
With 90% of retailers planning to implement Buy Online, Pick Up In-Store (BOPIS) services by 2021, it's crucial not to lag behind in the competition.
Don't miss out on the opportunity to meet customer demands and enhance your Shopify store's success. Start offering store pickup services today and provide a seamless and convenient shopping experience for your customers.
For more details, refer to our documentation 👉 here
Standard shipping
DingDoong understands that as your business grows, you may want to reach customers beyond your local area. That's why we offer a reliable and efficient standard shipping option that enables you to ship your products to customers anywhere in the world.
By leveraging DingDoong's standard shipping, you can expand your customer base and tap into new markets with ease. Whether your customers are located across town or across the globe, our robust shipping network ensures a timely and secure delivery.
With multiple delivery options at your disposal, you can provide flexibility and choice to your customers. Whether they prefer local delivery for convenience or standard shipping for wider reach, DingDoong has the solutions to meet their needs.
Offering multiple delivery options not only increases customer satisfaction but also boosts your Shopify store's conversion rate. By providing a seamless and hassle-free shopping experience, you can build trust, loyalty, and ultimately drive more sales.
Don't limit your business potential. Embrace DingDoong's versatile delivery options and unlock new opportunities for growth.
Date picker: let customers choose their preferred delivery date and time
DingDoong's convenient date picker goes beyond simply providing a selection of dates. It focuses on enhancing customer convenience and building trust throughout the delivery planning process. By incorporating DingDoong's date picker into your Shopify store, you can create a seamless and reliable experience that fosters customer satisfaction and boosts conversion rates. Let's delve into how DingDoong's date picker enhances convenience and trust:
Transparency and Expectation Management:
A date picker enables customers to see the available delivery dates and times upfront. This transparency helps manage customer expectations by clearly communicating the estimated delivery timeframe. When customers have a clear understanding of when they can expect their delivery, they are less likely to abandon their carts due to uncertainty or unexpected delays.
It's particularly popular in the food delivery industry, where on-time delivery is crucial. Customers often expect to receive their orders shortly after placing them. However, there may be instances where the delivery exceeds your cut-off time or falls on a day when your business is closed. In such cases, it can be frustrating for customers to have to call or email to cancel their orders.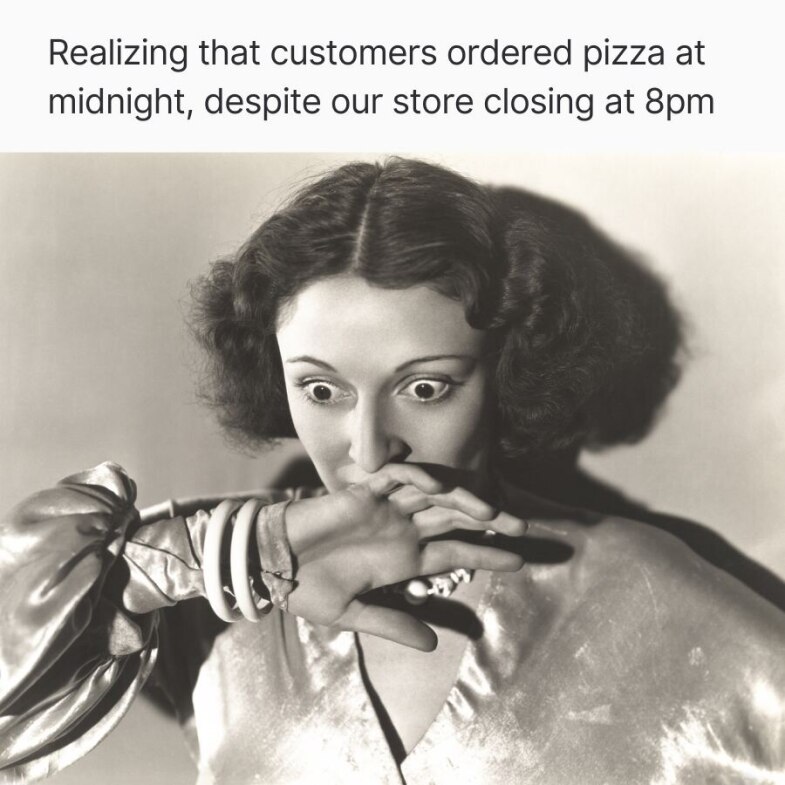 Another scenario is when customers want to purchase a birthday gift for their father. They anticipate the gift arriving on his birthday to create a surprise. However, if your delivery is scheduled for a day later due to non-working days, it can lead to disappointment.
This is where a date picker becomes incredibly useful. It allows you to communicate clearly with your customers about your business availability. By providing a date picker, you can manage customer expectations effectively and streamline your order fulfillment process. This saves you time from answering inquiries related to order fulfillment and enhances customer satisfaction.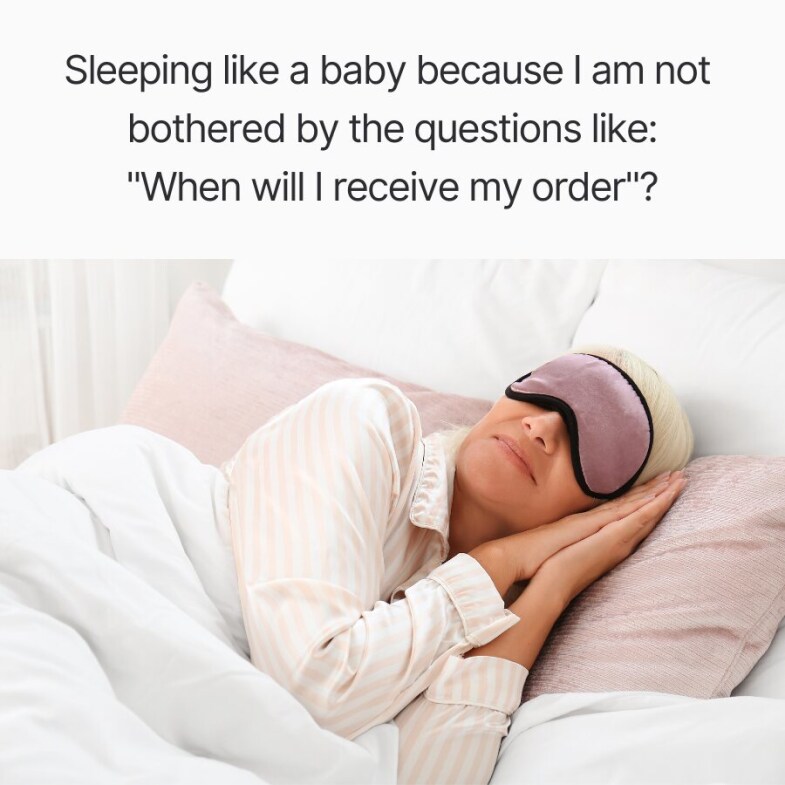 In summary, implementing a date picker enables clear communication with your customers regarding your business's availability. This, in turn, helps manage customer satisfaction, streamline your order fulfillment process, and reduces the need for customer inquiries regarding delivery dates and times.
Read more: How To Set Up Delivery Date For Different Zip Codes On Your Shopify Store
Convenience and Flexibility
Convenience and flexibility are key when it comes to customer satisfaction. By implementing a date picker for delivery date and time selection, you provide customers with the freedom to choose a delivery slot that aligns with their busy schedules and preferences. This level of flexibility reduces the chances of cart abandonment.
Here are a few specific use cases where the date picker proves valuable:
Convenience for Busy Customers:
Life can get hectic, and customers may have limited availability at home. With a date picker, they can choose a specific delivery date and time that aligns with their schedule. This empowers them to plan ahead and ensures they're present to receive their order without any hassle or missed deliveries.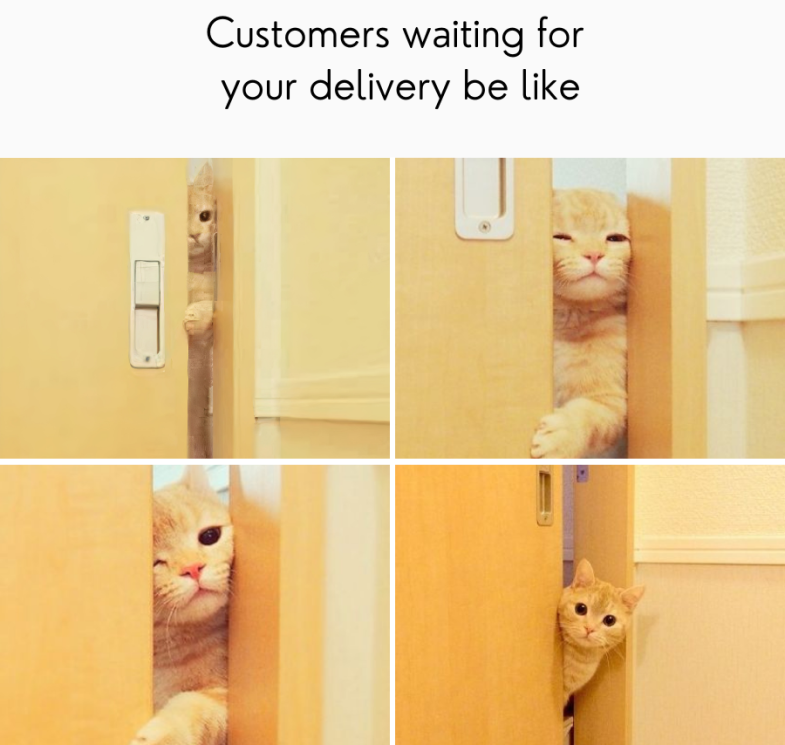 Scheduled Deliveries for Special Occasions:
For important events like anniversaries, birthdays, or celebrations, customers may want to schedule the delivery for the exact date. The date picker allows them to select the preferred delivery date in advance, guaranteeing that their gift or purchase arrives at the perfect time to create a memorable experience.
With the convenience and flexibility offered by a date picker, you make it easier for customers to navigate their busy lives while ensuring a seamless delivery experience. This customer-centric approach enhances satisfaction, reduces cart abandonment rates, and ultimately drives the growth of your business and Shopify conversion rate.
Set up DingDoong's date picker for your Shopify store
DingDoong, available on the Shopify app store, is a user-friendly app that empowers merchants to effortlessly integrate a date picker widget into their online stores. With DingDoong, you can enhance your customers' shopping experience and boost your conversion rate in just a few simple steps:
Install with ease
Quickly install DingDoong from the Shopify app store with a single click. No coding skills are required, allowing merchants of all technical backgrounds to seamlessly integrate the date picker widget into their online stores.
Install DingDoong here
Customize to your need
Configure the date picker according to your specific requirements. Choose your desired time zone and decide where on your webpage you want the date picker to be displayed. DingDoong seamlessly blends with your store's design, maintaining a consistent and visually appealing appearance.
Enable the flexible delivery options
Enable various delivery options, including shipping, local delivery, or store pickup, based on your business model. DingDoong automatically syncs with your Shopify locations, streamlining the setup process. If needed, you can easily customize the location settings to meet your exact needs.
Define availability
Fine-tune the availability of your products and services through DingDoong's intuitive interface. Set your business hours, define time slots, and specify blackout days when deliveries or pickups are not possible. This level of control ensures accurate and reliable date and time selections for your customers.
Make it required
Increase customer engagement and completion rates by making the date picker a mandatory field during the checkout process. By emphasizing the importance of selecting a delivery date, you minimize uncertainties and potential delays, resulting in a smoother order fulfillment process.
DingDoong simplifies the implementation of a date picker in your online store, giving your customers the convenience and flexibility they desire. By offering a seamless and personalized delivery experience, you can improve customer satisfaction, reduce cart abandonment, and ultimately drive higher conversion rates. Start using DingDoong today to unlock the full potential of your Shopify store.